Jason Smyth to stay in Florida with Lance Brauman training group
Last updated on .From the section Disability Sport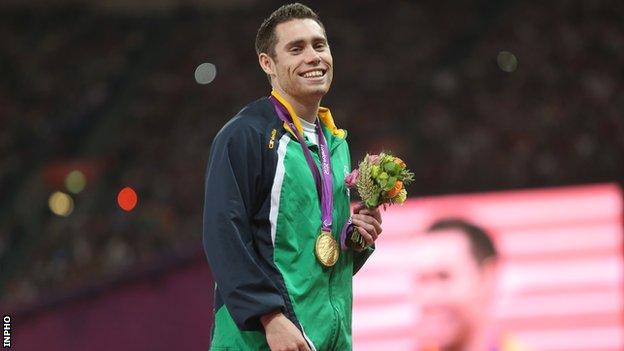 Paralympic star Jason Smyth will continue to be based in Florida as he maintains his aim of competing in the Olympic arena in 2016.
The Northern Irishman will remain with Lance Brauman's training group in Florida, which includes Tyson Gay.
"It has been sorted out and I'm looking forward to getting back," said Smyth.
There had been some uncertainly over where the visually-impaired Smyth would train over the winter after his long-time coach Stephen Maguire opted to take up a job with Scottish Athletics.
Maguire has been working as part of Brauman's coaching team at the National Training Center in Clermont over the last few years.
Smyth, who was diagnosed with Stargardt's condition as an eight-year-old, wanted to remain in the US but it wasn't clear if he would continue to be part of Brauman's group.
Maguire held discussions with Brauman which helped smooth the way for the sprinter to remain at the Florida base.
"I talked with Lance myself last week as well and it was always the ideal scenario for me that I would remain with his group," said Smyth.
"I'm working with great athletes, the weather is good and I've made steady improvements during my time there.
"I felt I worked well there again over the last year even though, for what ever reason, I wasn't quite able to show that in my times.
"I know I'm fortunate to be able to train with such a group because normally sprinters with a best time of 10.20 seconds would not get to work with such elite athletes."
Smyth has been on holiday in Utah over the past two weeks and will return there in December to marry his American girlfriend Elise.
Prior to that, a stint at home in Ireland will be followed by six weeks of training in Florida before his nuptials.
"I'll be on my own for six weeks in Florida before Elise joins me there after the wedding but things will be OK as the other athletes should be able to help out if I need a lift to training or something like that."
Smyth's profile was raised significantly by his two world record-breaking triumphs at the Paralympics and he is continuing to hold out hope that he will be able to attract new sponsors.
"I have spoken to a few agents and other people but no other significant support has come through yet," added Smyth, whose principal source of income is a £32,000 annual grant from the Irish Sports Council.
"For it to be sustainable through to Rio, I will need more backing but hopefully it will come and I will be able to keep on producing at both paralympic and mainstream level."
In the meantime, Smyth will keep on working hard and his new wife will be aiming to find a suitable job when she joins him in Florida.