Heather Mills reveals her Sochi 2014 Paralympics dream
By Nick Hope
BBC Paralympic sports reporter
Last updated on .From the section Disability Sport
Since marrying Sir Paul McCartney in 2002, the name of Heather Mills has never been far from the headlines.
When it was announced in late 2010 that Mills - who had her left leg amputated below the knee after a collision with a police motorbike in 1993 - was attempting to qualify for the British skiing team at the 2014 Paralympics in Russia, some greeted the news with a degree of scepticism.
A publicity stunt? After two years of extreme learning - including countless broken limbs and ligaments, but also five second-tier race victories - she would argue otherwise.
"I basically said, if I'm going to do this, I'm going to do this properly," Mills, who has bases in Austria and the UK, told BBC Sport.
"Being older is normally a handicap usually as far as physically is concerned, but mentally you tend to be much stronger because you realise that this [being an athlete] is just a privilege."
The 44-year-old spends half of each month training in the Alps. When in England, she endures six-hour round trips from her home to train at the Milton Keynes indoor snow zone.
It is a level of commitment which has impressed many in the British set-up.
"We don't want to take people just to wear the jacket, we are trying to set the standard and achieve a medal, but Heather has every chance," Snowsport UK chief executive Fiona Young told BBC Sport.
"Heather is going to find it tough, but she's very focused and also she's in a very privileged position in that she doesn't have to worry about the funding so much."
Following the end of her marriage to McCartney, Mills received a £24.3m settlement. She has been able to use these resources to enlist the help of numerous former skiers, including the previous world speed record holder John Clark.
And Mills's journey from recreational skier to one of Paralympic potential would perhaps not have started without a random meeting.
"I was on holiday in Austria, it was really early in the morning and they'd opened the lifts for the racers and one slope was empty so I just kept going straight down," said the charity campaigner.
"I hadn't skied properly for 10 years, but the head of the Slovenian Masters said, 'You know you're doing 100kph (62mph) on slalom skis and that's very dangerous?'
Mills added: "I didn't even know what the skis were because I'd just rented them from the shop, but he said to come and join them."
That led to a trial with the British disability skiing team in December 2010 and she officially joined the 19-strong development squad last year.
But despite her impressive speed, Mills's progress was hampered by difficulties with her prosthetic leg, which frequently "ejected" her from her skis.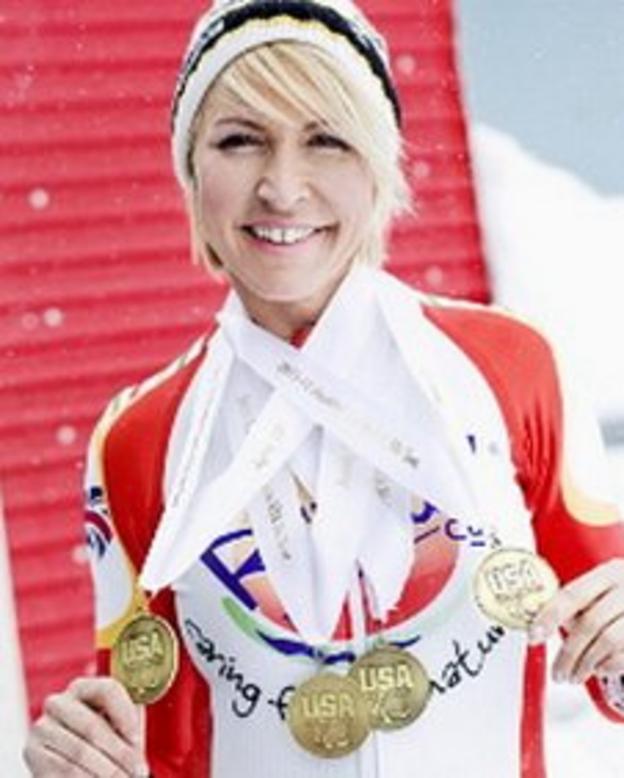 In May 2011 she had to be airlifted to hospital after colliding with a pole during training and fracturing her shoulder.
Then, just six months later, she injured her partly amputated left leg and broke her thumb.
"I was a little bit concerned because when I went into it [training], the leg kept coming off," said Mills, "but now the London Prosthetics Centre has helped design a new one."
"It means it cuts the circulation off for two minutes from the start to the finish of the course before I release it. But it actually stays on so, fingers crossed, no more injuries!"
As a leg amputee Mills is eligible to compete on a monoski, however due to the metal plates which were inserted into her pelvis after her accident in 1993, medical experts have advised against this move.
It has not significantly hampered her prospects on the slopes, though, as she claimed the Super-G Austria Cup title in the speed race nine months ago.
Four gold medals followed in April at the US Adaptive Alpine Skiing National Championships in Aspen, Colorado.
"It's not great because I love skiing on one ski. It's so much fun and so much easier, but I've got to do it [compete on two skis] and finally the leg has been sorted," reflected Mills.
"When I won the medals it gave me a lot of confidence - it's brilliant."
The improvements will have to continue throughout the next 16 months if Mills is to attain a place at the Paralympics in March 2014.
All new athletes enter disability skiing with an International Paralympic Committee Alpine Ski [IPCAS] score of 990, which is reduced through Europa Cup and World Cup finishes.
Despite injury problems limiting her competitive appearances, Mills has decreased her Super-G score to 311.94, with 582.91 for downhill.
Athletes need to reach a score of 220 to be eligible for the Games.
But, owing to a lack of funds, Great Britain will only take skiers to Sochi who are considered "genuine medal prospects" and therefore set their standard at 80 IPCAS points.
In order to improve her chances, British coaches have insisted Mills works on her technique and have requested she enters additional slalom races.
"It's going to put my injury risk up even more," she said.
"I'm going to try it and then hopefully convince them otherwise to say 'Do you want some medals in speed, or absolutely zilch at Sochi?' so we'll see.
"I'm quite a good dancer so eventually I may be able to skirt around the slalom gates, so watch this space!"
Mills next competes in Pitztal, Austria, on 8-9 December.