Jody Cundy finds Paralympic outburst 'sad to watch'
Last updated on .From the section Disability Sport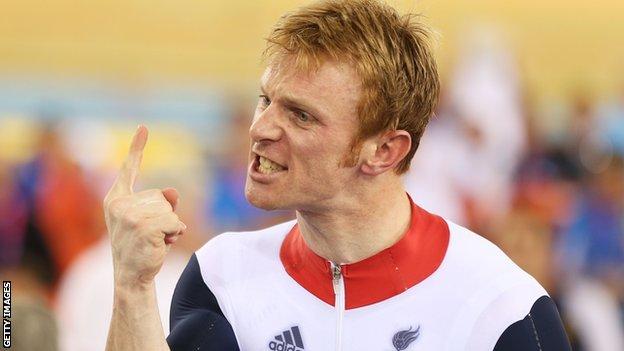 Paralympic cyclist Jody Cundy has said he has only recently looked at a replay of his outburst at London 2012, admitting it was "sad to watch".
The 34-year-old provided one of the summer's most controversial moments with a rant at officials following his disqualification from the C4-5 1km.
"What happened in my head and what happened on camera all seemed very similar," he told BBC Radio Norfolk.
"But it was quite sad to watch and know how it all happened."
He added: "It's kind of frustrating with how the officials worked with it and how it was judged. But that's the way it goes, those are the rules and I had to abide by them."
The Beijing double gold medallist entered the London 2012 Paralympics as world champion and favourite for gold.
But his back wheel slipped at the start of his time trial and, after officials denied him a restart, he had to be restrained by a ParalympicsGB team member as he was escorted out of the arena.
"I remember every moment. The disbelief of not being allowed to ride," he said.
"I went up and made an apology between two medal ceremonies. After all the media I went back to the village to reset for the next day."
The Wisbech-born former Paralympic swimmer returned to the track a day later to take bronze in the 4km pursuit.
"London wasn't my most favourable Paralympics in terms of performances," said the C4 1km world record holder. "But the actual event was truly memorable.
"The crowds were fantastic. You can't explain to somebody what it was like.
"I would have liked to have won a gold medal and heard what the crowd sounds like. I'll go to Rio and hopefully they'll make noise for us there."