London 2012 Paralympics: Legacy lessons must not be forgotten
By Kate Grey
Paralympic swimmer and BBC Radio 5 live pundit
Last updated on .From the section Disability Sport21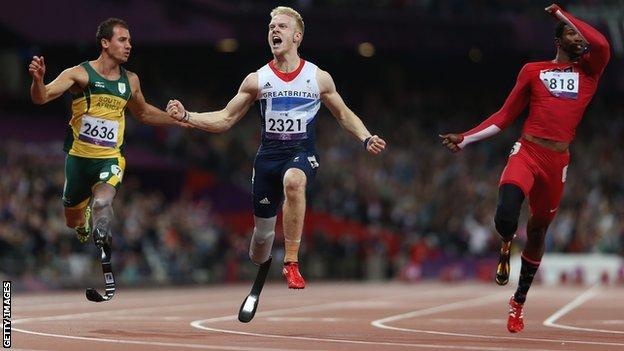 Since losing my left hand in an accident at the age of two, I have experienced many challenges.
I have also adapted my life to ensure I make the most of all my abilities.
Sport has helped me do that, playing a huge role in my quest for success and providing me with opportunities to show off my full potential.
I am a Paralympian who has represented Great Britain since 2003 and competed at the 2008 Games in Beijing.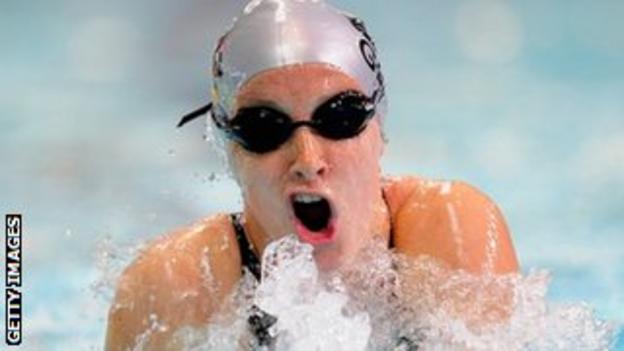 I had hoped to swim at London 2012 too, but missed out when I contracted glandular fever, caused by athlete burnout. I tried to qualify for London but I was not in the physical shape or health to swim my best.
It was devastating not to be there as a competitor, but I was fortunate enough to follow the action as a commentator and pundit for BBC Radio 5 live.
During the 10 years I have been a part of the Paralympic movement, I have seen it evolve and develop into the amazing spectacle we saw in the summer.
As athletes, we never compete in sport for the money or fame but for self-satisfaction and because we believe there are no limits to our abilities. We strive to prove to ourselves, as well as to others, that we can shine through our disabilities.
London 2012 allowed us to show off our true talent and gain the respect of people who had once felt pity for us.
As I walked around the Olympic Park in clothes that revealed the full extent of my disability, suffered when I lost my left hand in an accident with a sausage machine, I was no longer stared or pointed at with shocked faces. Instead, I was greeted with smiles of admiration.
I also noticed parents queuing with their children to get photos and autographs from athletes who they may have been too scared to approach - and underestimated - not so long ago.
Public perceptions have changed as a result of the Games. I have felt a definite change in attitude towards me. People are a lot more accepting and comfortable asking questions and talking about disability and the Paralympics, whereas before the subject was ignored and avoided to ensure the wrong thing was not being said.
London 2012 turned Paralympians into genuine sporting heroes and role models. Three months on, it is easy for it to all become a distant memory.
But we must ensure that these new attitudes become the norm, that people with a disability - or, as I like to say, different abilities - are regarded in the same vein as they were in those two glorious weeks during the summer.
So far, the signs are positive. Let me give you another example.
If you asked a school teacher what their most feared lesson of the week was, I'm sure the last one on a Friday would be a popular response.
It is difficult enough to keep pupils attentive, let alone engage them in a topical discussion when the weekend beckons.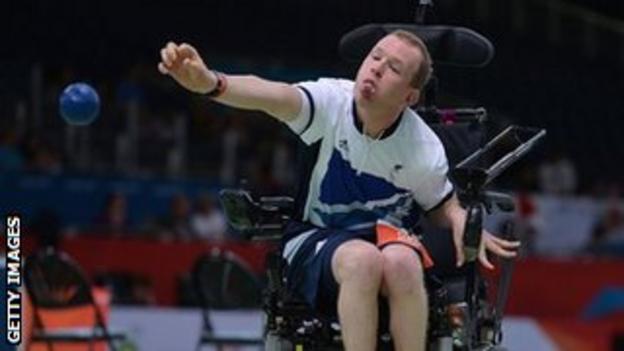 Yet that was the challenge I faced when I returned to my old school - the Castle School in Thornbury - to talk to kids about the London Paralympics.
The session began with an ice-breaker. We shouted out different sports and the pupils had to respond with a pose that best demonstrated that particular sport. Rugby and football prompted obvious responses, but boccia was met with grunting sounds and puzzled faces.
Despite the confusion, it was clear that the Paralympics had really opened up the minds of young people as far as understanding disabilities.
They feel more comfortable asking questions they would not have contemplated asking before.
When I told them I was happy to answer any questions they may have had, there was a little nervousness at first but they soon started firing questions at me.
"Do Paralympians get as much funding as Olympians?" and "Should the Olympics and Paralympics be one event?" were just two of them.
But what I found most gratifying was that the kids became increasingly at ease when asking me about my disability and how it shaped my life.
This is just the start, of course, and there is still a lot of work to be done.
You can hear more about Kate's school visit when BBC Radio 5 live discusses the issue of Paralympic legacy on Thursday at 19:30 GMT.