Paralympic pair call for sustained sponsorship levels
Last updated on .From the section Disability Sport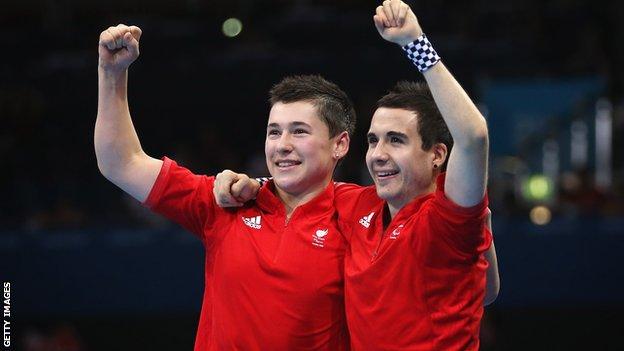 Paralympic table tennis medallists Will Bayley and Ross Wilson have called for sponsors to continue supporting disability sport.
Wilson told BBC Radio Kent: "It's still a bit of a struggle but we get through it because we love our sport."
Bayley added: "They cough up when it comes to big tournaments but they push it under the bed afterwards."
"I hope big sponsors realise how professional Paralympic sport is," Bayley added.
"I still think it's a long, long, long way behind [the Olympics and other sports] in terms of sponsorship.
"The big companies don't cough up.
"We struggle for three years and then for a year it's OK. I think it should be more supported throughout."
Bayley, from Tunbridge Wells, also won an individual silver at the Games before combining with Wilson to defeat Germany 3-0 in the team event.
Both train for at least six hours a day at their Sheffield base, in addition to other commitments post-London 2012.
They hope that sponsors can back their sport in the same way the public have.
"The Great British public have made it so special," Bayley continued.
"It will never be the same again. It's changed forever.
"It's a great story with people coming back from such adversity. It's not just great sport.
"There should be more supported Paralympic events on TV."
Since the Games, the pair have been visiting schools in Kent to promote the London 2012 legacy.
Wilson, 17, says the transition in public opinion following the Paralympics has been remarkable.
"Already a lot of people have said the Paralympics were amazing," he said.
"Normal kids are coming up to me saying they want to be like Oscar Pistorius and Jonnie Peacock. That's crazy.
"Kids look up to Paralympians like they looked up to Linford Christie or Usain Bolt and that's cool."