Hand-cyclist Rachel Morris to try different sports
Last updated on .From the section Disability Sport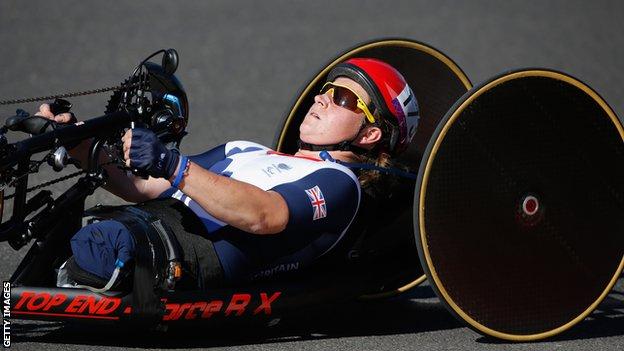 Guildford's Paralympic hand-cyclist Rachel Morris is planning to try other sports next year.
Morris, 33, told BBC Surrey: "I still absolutely love cycling but I am quite interested in triathlon and rowing. This is the year to play around.
"I wouldn't mind going to a talent day and seeing what happens with it. To me, it would be brilliant."
She continued: "I want to be doing something again in four years time in Rio de Janeiro. That is my aim."
Morris admitted that safety concerns were one reason for considering a switch away from hand-cycling after she dislocated her shoulder ahead of the Paralympics when she was hit by a car while training on Surrey's roads.
That injury, coupled with recent accidents involving Tour de France champion and Olympic time trial winner Bradley Wiggins and British Cycling head coach Shane Sutton has made her consider her future.
"Sitting on a static rowing machine in the gym is an awful lot safer than riding a bike down the road, it seems.
"It would be nice to add a different slant to training," said Morris.
"In an ideal world, I'd love to stay with cycling but there are definitely new hazards appearing in the sport.
"Even the blue cycle motorways up in London aren't fantastic as you still get people parking in them.
"Particularly around Surrey, the roads are quite winding and narrow at times. You can't do anything with that - it's just down to driver awareness."
Morris is looking forward to a quieter year in 2013, although she is aiming to keep her place in GB's elite squad in the face of competition from new riders joining the programme.
"Ultimately, it's back into the first year of the four-year cycle [leading up to the next Paralympics]. The first year is usually not so pressured.
"We've got World Championships (in 2014), so getting into the squad will be the aim.
"It's quite unnerving in some ways as you don't quite know who is coming in or who's around.
"But it's great because you see new riders coming in and really progressing."