Lack of disability sport interest after Paralympics denied by BPA
Last updated on .From the section Disability Sport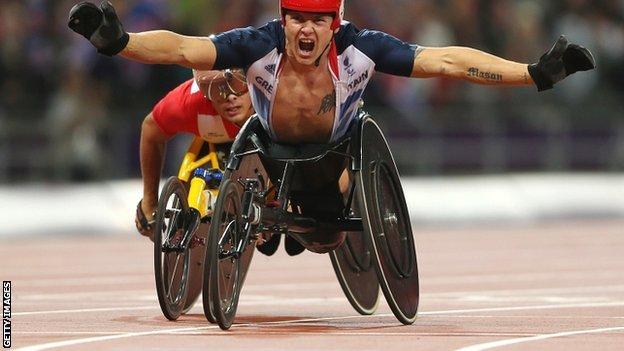 The British Paralympic Association has dismissed claims in a survey suggesting there has been no significant increase in disability sport since London 2012.
"We strongly disagree with this," said BPA chief executive Tim Hollingsworth.
"There is still a long way to go, but just four months on from the Games it's wrong to suggest nothing has changed."
The opening ceremony of the London Paralympics, which followed London 2012 and saw ParalympicsGB win 120 medals, was watched by 11.2m people.
In December, UK Sport announced that Paralympic sport would receive a 47% increase in funding for Rio 2016 following the success of the Games.
But the Alliance, which represents all governing bodies and 150,000 grassroots sports clubs, also identified that 96% of clubs reported no change in the number of disabled people volunteering at their clubs.
In addition only 24% said they had suitable facilities for disabled people to participate, and suitably trained staff and appropriate equipment to enable them to do so.
Hollingsworth insisted that there has been positive change and said: "All the evidence we have seen, from a 25% increase in people playing Wheelchair Basketball and two new clubs in Wheelchair Rugby set up as a result of London 2012, both in areas of the UK where no clubs for that sport have existed before, to our own SportFest in December, when a thousand people came through the doors in two days to try Paralympic sport, shows there is a definite increase."
The English Federation of Disability Sport also disagreed with the findings and said: "In our survey, after the Games eight out of ten disabled people were considering taking part in sport and, in October, the BPA's Parasport website reported a 2,000% increase in web traffic during the Paralympics compared with the same period a year before."