Wheelchair tennis star Esther Vergeer's 10 years unbeaten
Last updated on .From the section Disability Sport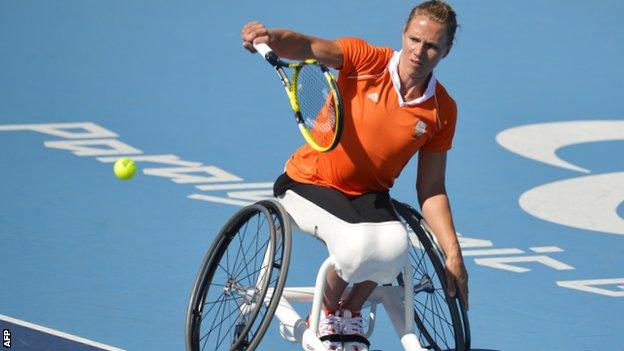 If a competitor lasts 10 years in professional sport, they can claim to have had a good career.
But how about going a whole 10 years undefeated? Dutch wheelchair tennis champion Esther Vergeer has just passed that milestone in singles play. She was last beaten on 30 January 2003, by Australia's Daniela Di Toro in Sydney.
"I learned a lot from that match," she says. "I saw it as a start-up, to become more professional and focused.
"After that I have been more successful than ever, so it's good to have such moments and it's good that wheelchair tennis is developing, so I will get more of those moments in the future."
Now 31, Vergeer is in South Africa working with the Johan Cruyff Foundation, coaching disabled children in schools like the Ithembelihle Lsen School in Primrose, east of Johannesburg.
Far from being precious about her unbeaten streak in singles play, which currently stands at 470 matches, Vergeer is encouraged by the increased depth of talent in her sport and the new challenges that brings.
"Our sport has become more grown up, and it's more accepted that ever before," she says. "Worldwide it has grown a lot. But I have a lot of ambition and every day I see something I can improve.
"It could be just half a percentage of a better forehand, or a stronger serve. And if you can improve, then that motivates."
The worldwide growth is reflected in the current world rankings, with 25 different nationalities represented in the top 50 of the men's and women's game.
The current women's world number 10, South Africa's Kgothatso Montjane, was at the Ithembelihle Lsen School to learn from the woman that Rafael Nadal has praised for her "amazing will and ability".
"Esther is such a disciplined athlete," Montjane says. "This is such a unique sport, it's unbelievable how the players push with the racquet. Sport for people with disabilities is so therapeutic."
The warm smile Vergeer shows while teaching the new generation of wheelchair players is one side of her personality, the other is the steely professional unable to accept defeat.
Barbara Barend, a Dutch sports broadcaster, accompanied Vergeer to South Africa.
"What Esther has achieved, no-one else has," says Barend. "You can't categorise her as just a disabled athlete, she's up there with the likes of Roger Federer and Johan Cruyff.
"She wants to be the best in whatever she does, and she doesn't want you to help her." Barend tips Vergeer for a role in the Dutch National Olympic Committee after she hangs up her racquet.
So, what about retirement? After all, it must be difficult storing the 42 Grand Slam trophies she has won, in singles and doubles, since her first triumph at the 2002 Australian Open.
"If I'm going to continue playing, I'll play because I want to be better than before," she says. "I enjoy tennis, and if one day I feel I am not enjoying it as much, I'll retire and start doing other things."
Jahangir Khan's world-record winning streak in professional sport, of 555 squash matches between 1981 and 1986, is under threat, but doesn't dominate Vergeer's thoughts.
"The winning streak is not my main goal," she adds. "Every time I play I have wanted to win that match, it's not something I work towards. The competition is getting stronger so it will be tougher and tougher."
It seems incredible that despite not having lost for 10 years, Vergeer is not ranked number one in the world. Having missed the recent Australian Open, that mantle now belongs to fellow Dutch player Aniek van Koot.
For the woman who has already overcome so much in her life, regaining top spot seems a natural progression for, statistically, the most successful athlete anywhere in the world in the past decade.