Jody Cundy questions track para-cycling calendar
By Chris Osborne
BBC East Sport
Last updated on .From the section Disability Sport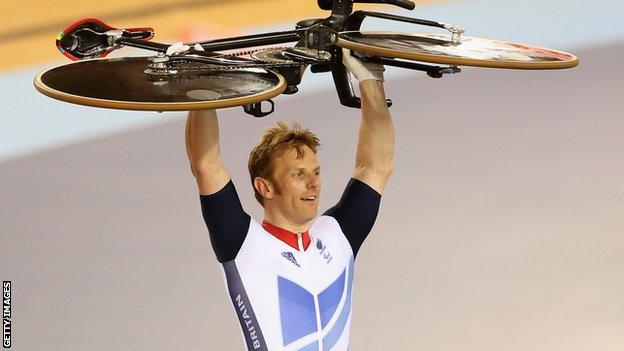 British Paralympian Jody Cundy has criticised a lack of track para-cycling events, likening his discipline to a "long lost brother".
There are no major international track para-cycling competitions scheduled for 2013 and the date of 2014's world championships has yet to be confirmed.
"Unfortunately track cycling is very far from being healthy," said five-time world champion Cundy.
"Being a track cyclist sucks at the moment," he told BBC East Sport.
"It's very bleak when it comes to competitions," added the 34-year-old. "We have no competitions planned for 2013. The next big one is March 2014, the world championships, although that's not been officially confirmed."
In contrast to track racing, road para-cycling has a World Cup series throughout the year.
Both sports are governed by the International Cycling Union (UCI), who took over from the International Paralympic Committee (IPC) in 2006.
"I really don't understand why they've gone in one direction and not the other," continued Wisbech-born Cundy.
"We've got no way of developing track talent, because the first race anyone is going to do is a world championships or Paralympic Games, so there's no way of testing yourself against other competitors and pushing the sport on.
"I'm not sure cycling is developed enough to get away from the IPC. It's almost like it needs the IPC to push it on.
"I don't know if we've jumped too early and the people in the para-cycling department at the UCI aren't ready to push the sport as it needs to be pushed."
For their part, the UCI says it is attempting to increase the number of track events each year.
"The reason behind the lack of track events on the international para-cycling calendar is quite simply the lack of organisers," said UCI para-cycling co-ordinator Christophe Cheseaux.
"The UCI would dearly like to see more events on the calendar but the UCI is not an organiser.
"Over the winter, the UCI sent letters to all its para-cycling contacts in each nation asking if they would be interested in competing in an international para-cycling event.
"The interest is definitely there, but it is difficult to find organisers. Having said that, we can say that discussions are advanced with two potential organisers in France and in Canada.
"In addition, one international race for tandems has been confirmed in France.
"It should also be remembered that we are in a post-Paralympic year. This could also have an influence on the reluctance to organise a track event as many nations have less money at their disposal this year after a high-budget Paralympic year.
"In addition, there are no qualification points in 2013 for the 2016 Paralympic Games, which could have a bearing on the situation. Nations are more inclined to organise an event when points are at stake for their athletes."
Cundy went into last year's London Paralympics as favourite for the C4-5 1km time trial, an event he had won at the last two world championships and in which he currently holds the world record.
But he was disqualified after an issue with his starting block - and later apologised for his furious response - eventually having to settle for bronze in the C4 4km pursuit.
And Cundy, who was a world champion disability swimmer before switching sports in 2006, believes could be one way of improving the standard of racing.
He also suggests that para-cycling could "tag on to" able-bodied World Cup events.
But he also wants to see a change in the Paralympic qualification process, which currently combines results from road and track events, rather than each discipline having its own qualification process.
"If you had specific road points and specific track points, you'd have a real chance of helping develop track para-cycling," he said.
"As it stands at the moment it's kind of like the long lost brother that's forgotten all about."