Megan Pascoe targets Rio Paralympics after London omission
By Elizabeth Hudson
BBC Sport
Last updated on .From the section Disability Sport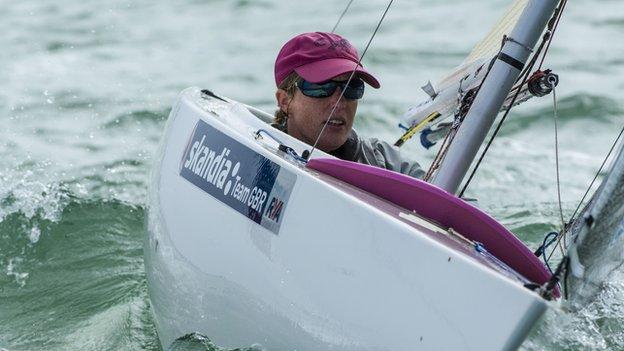 After the disappointment of missing out on the London Paralympics, sailor Megan Pascoe has started her Rio preparations in style.
The 26-year-old missed out on the sole GB place available in the 2.4mR category to rival Helena Lucas, who went on to win gold in London.
But Pascoe landed victory in the class at last week's World Cup in Miami.
"I knew I was sailing well and had the potential to finish strongly, but it was nice to win," she told BBC Sport.
"It was disappointing to miss London but things are going the right way for me in the build-up to Rio. I had a good performance in September at the 2.4mR World Championships in Italy, where I won bronze, and since then I've changed a few things and this victory leaves me as the leading Briton in the category."
Full-time sailor Pascoe, who has a form of cerebral palsy which affects one side of her body, has been sailing in the one-person keelboat since leaving the junior ranks in 2002 and has competed regularly for Great Britain, including at the Disabled World Championships, where she finished sixth in 2011.
But with only one place per country available for each of the three Paralympic classes (2.4mR, Sonar and Skud-18) she narrowly missed out to Lucas for a place in the team for Beijing in 2008 and London and admits that not being part of the ParalympicsGB team is spurring her on towards 2016.
"Having only one spot available in the class is good when it comes to training and competition but it is hard to be in the top six in the world and not make it to a Paralympics," she admits.
"The rules are clear so it means you do have to raise your game and keep working hard and you definitely can't be complacent."
The boat is part of the Paralympic programme, which will see Pascoe race in the World Cup European season, starting in Mallorca next month, before the Disabled World Championships in Ireland in August.
However there are also opportunities for her to race against able-bodied sailors, including at the 2.4mR World Championships, which will be held in September on her home water in Dorset.
"The class is not particularly physically demanding so being female is not a disadvantage," Pascoe explains. "But you definitely do need to be mentally strong. When you are in the boat you are sitting down and it is all to do with the mental power and being able to work things out when you are on the water.
"But that is part of the challenge of the boat which I enjoy. You have people of all shapes and sizes competing in the class and it is quite amazing to see and shows that disability shouldn't make a difference.
"We get some sailors who have raced other boats and able-bodied sailors help to make the class great. They are often people who have a lot of sailing experience and bring ideas from other boats to our class and we all learn from it."
And the impact of the London Games where the GB Paralympic sailors won a gold and a bronze means that the sport is being taken more seriously.
"Since London, people understand Paralympic sport a lot more and when you win medals at big competitions, people know and understand that you are the best," she added. "The medals the team won in London have played a big part in helping secure our funding for the next cycle up to Rio.
"We have worked a lot with the Olympic programme and the whole squad has benefitted from that and there is a lot of support there which makes our job as sailors a lot easier and hopefully we can build on that."