Paralympian Natalie Du Toit aims to make impact in new role
Last updated on .From the section Disability Sport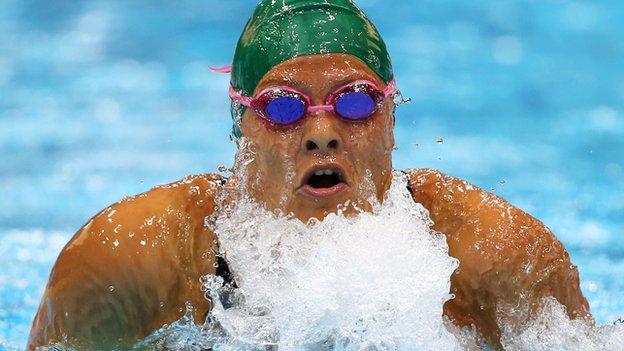 Paralympic swimming champion Natalie Du Toit hopes her new role with South Africa's Institute for Drug-Free Sport can help clean up the sporting world.
The 13-time gold medallist, 29, who retired after London 2012, was elected as an athlete member of the board.
"Drug-free was always important in my career," she told BBC Sport.
"I went out there and was too scared to even take cough mixture. It was important I raced knowing it was me and nothing else."
She added: "There are people out there who don't think like that and who want that medal or world record so badly.
"Hopefully we can make it clean at all levels, even at school level, and create awareness.
"A stronger punishment has to go across the board and it is important to treat everyone the same, but how do you do that when everyone is on different substances?
"95% of athletes are not caught and is it fair to just give bans to those 5% who are? Sometimes you can make an example out of someone, but then everyone has to be treated on the same level.
Du Toit came to prominence as an 18-year-old, when she reached the final of the 800m freestyle at the 2002 Manchester Commonwealth Games, just over a year after having her left leg amputated below the knee.
She made her Paralympic debut in 2004 in Athens, winning five golds and a silver. In 2008 became of a select group of athletes to take part in both the Olympics and Paralympics in the same year, when she competed in the 10k open water swimming event at the Olympics, finishing 16th, before going on to win five gold medals in the Water Cube.
But she was bitterly disappointed to miss out on a place in the South African Olympic swimming team for 2012 and signed off from her career with three golds and a silver in her final Paralympic Games.
Du Toit still holds 10 world records, but wants the future generation of swimmers, including the likes of Australia's Ellie Cole - who beat her to gold in their 100m backstroke and 100m freestyle races in London - to continue to blaze a trail for Paralympic sport.
"It is important to know that there are people coming through and they do beat me and that times don't stagnate," she added.
"The situation in disability sport is growing and girls like Ellie Cole are doing wonders.
"I wish them all the best and my message is please break all those records.
"I've been lucky enough to travel the world and win awards and medals but it was time to stop. I wanted to be young enough to study and have a life.
"I walk out knowing I have done everything and achieved everything I had set for myself."