Andy Lapthorne boosted by Novak Djokovic encounter
Last updated on .From the section Disability Sport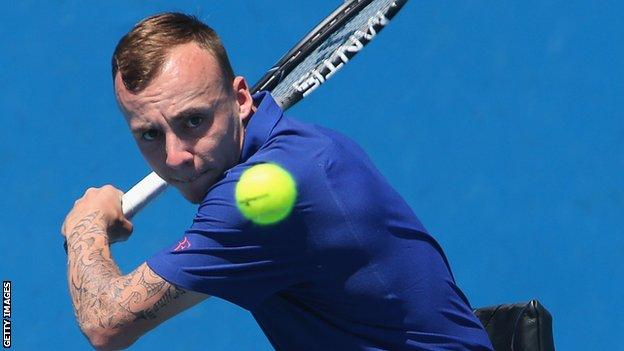 Wheelchair tennis player Andy Lapthorne says meeting world number one Novak Djokovic has helped him to refocus on his goals.
He told BBC London: "He has inspired me so much, in terms of finding it tough on court to becoming world number one and being mentally tough.
"It is a journey I need to take and he gave me some great advice. It was an unbelievable experience for me."
Lapthorne, who lives in Eastcote in Middlesex, is currently the world number three in the quad tennis rankings.
He hopes that advice from Djokovic will help him to improve his approach to the sport.
"He told me to keep going and be mentally tough," he added.
"He said one of the biggest things with him was his diet. That is one of the things I have struggled with.
"Going to football games [Lapthorne follows West Ham and Brentford] I end up eating out of the burger van.
"If I can change little things like that and keep taking advice from people like that, it will help me."
Lapthorne, who was beaten by world number one David Wagner in the Australian Open final, has set his sights on reaching the top of the rankings.
"I want to be the best in the world by the end of the year," he said.
"If that doesn't happen, then by midway through next year.
"If I can take all those bits of information I'm given and try and put them all together, it will help me get there.
"I've been at number four for five years but if I want to get to number one you need to make those sacrifices.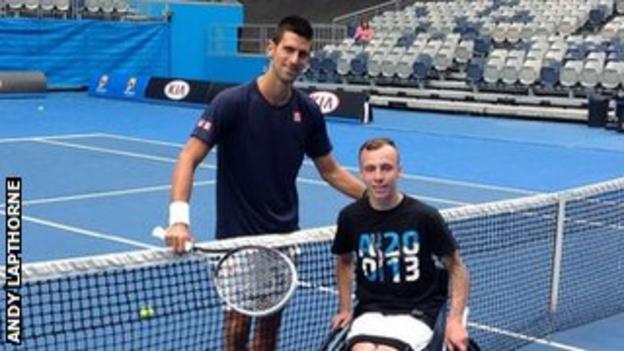 "I have got to be eating the right stuff and concentrate on what I can do to be the best."
Lapthorne says that spending time with Djokovic stemmed from a chance encounter in Melbourne.
"I was in the locker room and he saw the tattoo on my arm and then we got speaking about that," he said.
"I had seen he had been hitting with kids throughout the week and said 'If I get to the final, do you want to have a hit afterwards?'.
"He said 'name a time and a place and we'll sort it out'. He is an amazing guy with an amazing team.
"He and his team followed all my results throughout the week and were really good to me. They knew when I was playing, who I was playing and what the score was.
"After my final he came up to me and said 'let's go and hit'.
"I ended up playing on the Hisense Arena so that was a bonus as it's somewhere I always wanted to play.
"Hopefully we will link up again [later this year]."
Playing alongside Peter Norfolk, the left-handed player won a silver medal in the quad doubles at the London Paralympics.
However, his performance in the singles tournament at the Games, where he was beaten by Sweden's Anders Hard in the last 16, has spurred him on.
"Since London 2012 I feel like I've got a point to prove," Lapthorne said.
"I let a few people down in my singles, in terms of family and friends, and since then I'm heavily motivated to carry on and try and succeed.
"By getting to the Australian Open final I feel I did that.
"It was my first Grand Slam final and I had won the warm-up event before.
"Myself and David Wagner are going into battle in every match now.
"New York [and the US Open in September] is a big goal.
"We will make a big effort towards that event. That will be something special as it will be my first time in New York."