Mixed picture for disability sport post Paralympic Games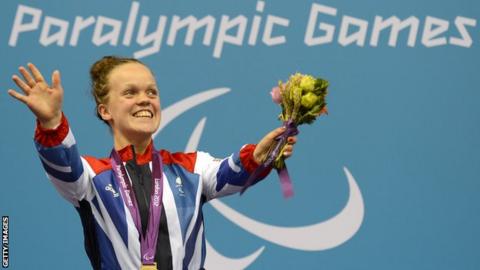 The London Paralympics were a breakthrough, teaching us all to focus on the abilities rather than disabilities of the extraordinary athletes on show.
That in itself was some achievement.
Six months on it's far more difficult to get a clear picture of the genuine sporting impact of the Games.
Evidence gathered by the British Paralympic Association and the English Federation for Disability Sport suggests something remarkable has been happening. Increasing numbers of disabled people are now seeing sport as a vital part of their lives. Here are a few statistics which they say back up the point:
25% more people playing wheelchair basketball
Participation in wheelchair rugby up by a third
A thousand people turning up to try out a range of different Paralympic sports at the British Paralympic Association's first SportFest in Guildford in December
These are green shoots. And a survey by the Sport and Recreation Alliance published in December painted a less healthy picture.
It said almost 90% of the sports clubs they surveyed had seen no change in interest from disabled people.
As with all surveys this one had its flaws, but it provided a healthy counter point to the overwhelming urge to imagine everyone in a wheelchair had been inspired to emulate David Weir.
What is more discernible is the growth in expectation at the elite level of Paralympic sport.
I saw it first hand at the National Junior Swimming Championships in Sheffield last weekend. This event always attracts the best young disabled swimmers in the country - it's where Ellie Simmonds was first noticed.
But what was different was the sense of ambition among the competitors. The Paralympics has given every young swimmer the ambition to dream of winning gold.
There's no better example of the transformative power of the Games than Josef Craig, Britain's youngest gold medallist in London and winner of the BBC's Young Sports Personality of the Year.
Now 16, he was back in the pool in Sheffield setting another world record on his way to victory in the S1-S10 400m freestyle.
He told me the impact of the Games had been "astounding".
"At my club alone we had an extra 150 people applying to join, which was just unbelievable. That is my own little example of the effect of the Paralympics and I don't think that will ever fade".
Creating demand and interest in sport is one thing - having the structures in place to fulfil the sporting ambitions of disabled people at elite and grassroots level is another thing altogether.
In the short term at least, the Paralympics may be a victim of its own success, raising expectations to levels which are unrealistic for the nation's sporting infrastructure, especially at a time of public-sector cuts.
At elite level the picture is a bit mixed. Sports like athletics have kicked on from London, setting up a new Diamond League series of meetings for disabled athletes. The crowds for these meetings in the summer will give us the first real chance to assess whether the packed houses of the Paralympics were a one off or whether there is an audience out there to watch the best Paralympic sport has to offer.
But in track cycling - one of the powerhouses behind Great Britain's remarkable medal haul - the cupboard is surprisingly bare.
Jody Cundy - who will probably forever be remembered for his furious reaction to disqualification in London - may have to wait until 2016 and the Rio Paralympics to measure himself against the best in the world in his category.
No international meetings are scheduled for this year and there are no clear plans being made by the International Cycling Union to stage a 2014 World Championships.
After watching him train at the National Cycling Centre in Manchester, he told me: "It's a bit weird. At the moment I'm just training for training's sake."
Even for a sprinter good enough to be in with a shout of making England's squad for the 2014 Commonwealth Games in Glasgow, that is a lamentable situation. Another black mark for the troubled UCI.
At the grass roots it is, as ever, a question of facilities, coaching and volunteers. In addition to the well publicised closure of Don Valley athletics stadium, another Sheffield facility - the Stocksbridge Pool - is facing closure, while another swimming centre in Splott, Cardiff may also close.
Baroness Tanni Grey-Thompson has already voiced her concerns about the social contradictions in following the triumph of the Paralympics with cuts to the Disability Living Allowance. Now she is worried that the sporting opportunity created by the Games may already be slipping away.
"It's not gone yet, but there is a risk that if we don't do something soon in schools and with facilities and investment then the chance to inspire a generation will have been missed," she said.
Perhaps no single event - no matter how successful - can deliver such vaulting ambitions. But it would be a tragedy if the breakthrough in attitudes in London is not used to create something more lasting.