Winter Paralympics: Stephen Thomas bids to make Sochi
By Elizabeth Hudson
BBC Paralympic sports reporter
Last updated on .From the section Disability Sport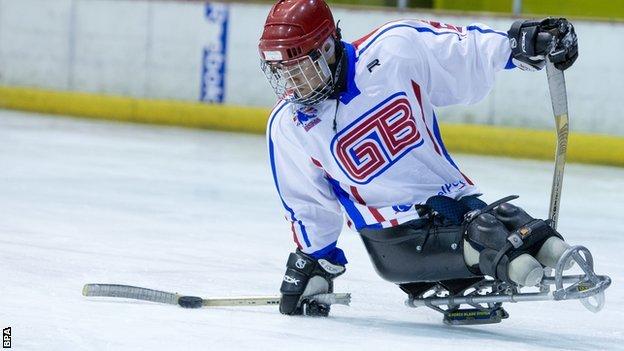 While many of his London Paralympic Games team-mates are slowly getting back to training after the success of 2012, sailor Stephen Thomas has been preparing himself for the next challenge which would cement his place as a history-making Paralympian.
The 36-year-old is one of a select band of British athletes to have competed at both a summer and winter Paralympics.
Thomas represented Great Britain in sailing at the London Games, as well as Athens and Beijing, and is now hoping to guide the GB sledge hockey team to Sochi next year and reach his second Winter Games.
The Welshman, who lost his legs below the knee through meningitis as a teenager, started playing sledge hockey in 1998 and quickly made the British team but after they failed to qualify for the 2002 Salt Lake City Winter Paralympics, he took up sailing the following year.
Thomas and his Sonar crew-mates Hannah Stodel and John Robertson made their Paralympic debut in Athens in 2004, but he continued to dabble in sledge hockey and in 2006 represented GB at the Winter Paralympics in Turin.
The GB team, who finished seventh, also featured athlete Richard Whitehead, who won gold in the T42 200m at the London Paralympics, and javelin thrower Nathan Stephens, who also competed for GB at 2012.
"I stopped sledge hockey after Turin because as far as I was concerned I had achieved my goal of competing in the Winter Paralympics and after that I concentrated full-time on sailing," he told BBC Sport.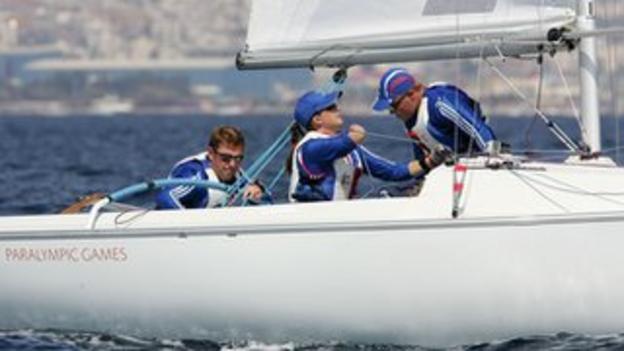 "London was a real rollercoaster of emotions. It was an amazing event and I was so proud to be part of it and representing my country.
"To compete in a home Games was an amazing experience and to have my family and friends watching me there was very special, but personally, it was tinged with sadness."
On the penultimate day of action at Weymouth, Thomas, Stodel and Robertson were given a four-point penalty for an off-the-water incident.
They had been in third place but the penalty dropped them to fifth and out of the medals. The final day of sailing was cancelled because of the weather, giving them no chance of moving back up the leaderboard.
The case is now going to the Court of Arbitration for Sport with a verdict expected at the end of April, but Thomas still looks back on 2012 as one of the highlights of his career so far.
"At Weymouth we felt part of the Games, the town put on a really good show and we did feel part of the team. But when it was over and we travelled up to London for the end of the Games we realised how big an event it all was.
"I went to the Athletics Stadium on the last Saturday to watch Nathan [Stephens] competing and the cacophony of noise after the stillness of Weymouth was a real contrast."
Thomas had been asked to return to the GB sledge hockey ranks on more than one occasion but after London spoke to his family, sailing's performance director and his crew-mates before deciding to return.
The GB team need to finish in the top three in Japan in this week's International Paralympic Committee B Pool World Championships to reach a further qualifying tournament later in the year where places at Sochi will be up for grabs.
"I'm six or seven years older than when I last played competitively and my body has taken more of a beating. But with age you get wiser," he admits.
"As a full-time athlete since 2006 I have a good level of fitness but I've had to hit the ground running and get used to the skills and drills that the team are using.
"If I can pass on an ounce of the knowledge I have learned through my time with sailing that would be fantastic. I know I'm not the greatest hockey player in the world so there are things that the other players in the squad can teach me."
But whatever the results in Nagano, Thomas will be back in a boat at the end of March as he, Stodel and Robertson gear up for the Disabled World Championships in Kinsale in late August.
"Sledge hockey knows sailing comes first for me. I want to win a medal in Rio," Thomas added.
"I'm proud to be competing for Great Britain in any sport. I love sport and I love competing and if I am good enough to warrant selection I am up for winning.
"I never thought I would get back into sledge hockey and to have the chance to reach another Games would be incredible."