Oscar Pistorius is not back in training, says a family statement
Last updated on .From the section Disability Sport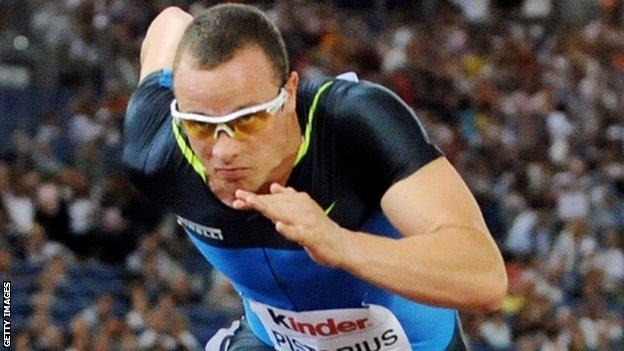 Oscar Pistorius has not returned to competitive training, his family have said in response to an article which features a photograph of the South African runner on an athletics track.
"Oscar is not back on any official training programme," read the statement from his family. "This may change in future, but this will be a decision taken by Oscar."
The South African, who competed at both the Olympics and Paralympics in London last year, could return to competitive action after a court changed his bail restrictions to allow him to travel abroad for events.
He denies murdering the 29-year-old Steenkamp, who was shot and killed at his Pretoria home on 14 February.
The family statement continued: "At this point, Oscar is still in an extremely traumatised state and has made it clear to all of us that he is not able or willing to even contemplate this issue at this stage.
"Against this backdrop, we can confirm that we did have a meeting with Oscar yesterday [Wednesday] where various family members and his trainer were present. We all encouraged him to get back onto the track to help stabilise him emotionally.
"Oscar has been out running on a number of isolated occasions in the days following the relaxation of his bail conditions, but each time has been very difficult and he has 'struggled immensely' with the decision to even leave the house."
According to Pistorius's agent, the photo was taken by a "schoolkid on 24 March", then published in a South African newspaper on Thursday. The grainy image shows the Paralympian and Olympian on the track wearing his carbon-fibre blades.
"He was just having a jog around his track on his own accord," agent Peet van Zyl told Press Association Sport. "He wasn't back at training."
At London 2012, Pistorius became the first double amputee to run at an Olympics. taking part in both the 400m and 4x400m.
He then won gold medals in the T44 400m and T42-46 4x100m at the Paralympics, as well as silver in the T44 200m.