David Weir could miss 2013 World Athletics Championships
By Nick Hope
BBC Paralympic sports reporter
Last updated on .From the section Disability Sport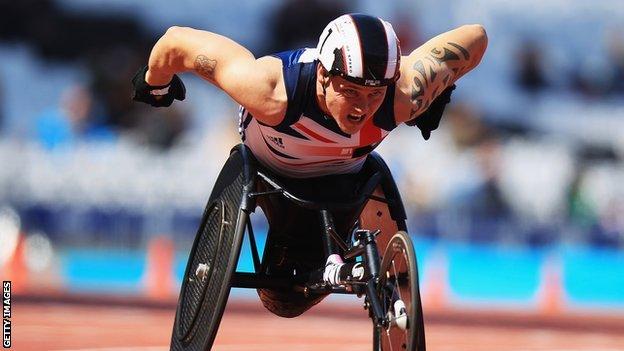 Six-time Paralympic champion David Weir could miss July's World Championships in Lyon as he looks to focus solely on his road racing ambitions.
Weir won three track golds at last year's London Games and, despite also claiming the marathon title, the wheelchair racer feels he has more to achieve over the longer distance.
His first major event of 2013 will be the London Marathon later this month.
"I want to prove myself on the road more than the track," said Weir.
"It's also about doing what I want to do and not being pressured into doing certain races, so that's why I'm not sure about the Worlds."
The 33-year-old's main targets include winning a record-breaking seventh London Marathon title and potentially challenging the world-record time of one hour 18 minutes and 25 seconds set by Canadian Joshua Cassidy last year.
Weir recently became a father for the third time and earlier this week launched the Weir-Archer Academy with long-term coach Jenny Archer in Kingsmeadow, Surrey.
While he has a firm two-year plan taking him through to a first Commonwealth Games appearance with England in Glasgow in 2014, Weir is also keen to take the time to enjoy more experiences inside and outside of sport.
"I think I need to be out of that high-pressured environment for a while," said the man nicknamed the 'Weirwolf'.
"I had London for seven years on my shoulders. As soon as we won the bid the phone was ringing asking 'how many gold medals are you going to win?', so that's why I'm not too sure about the Worlds.
"I also need some family time at home and not to be so selfish. I need to think of other people around me."
In January Weir said he would consider competing at one more Paralympics come Rio 2016 and despite a tough couple of months training in freezing conditions, he now admits his thoughts are turning to Brazil on a more regular basis.
"Rio is looking brighter now than after the [London] Games when I was saying 'no no' to it but as Rio gets closer I'm changing my mind slightly," the Londoner told BBC Sport.
"I'm more than likely looking at going [to the 2016 Games] but it will depend on if the training goes well and mentally whether I can actually train as hard as I did for London again.
"I need a year like this where I can pick and choose what races I want and break it up so I can save my body a little bit."