Jason Smyth left frustrated by London Anniversary Games 'snub'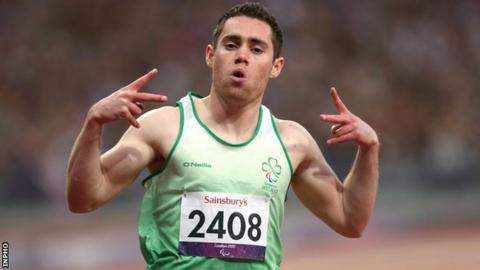 Four-time Paralympics gold medallist Jason Smyth has expressed his frustration at not being invited to run at the London Anniversary Games.
The three-day event will take place exactly a year after the Olympics opening ceremony and includes a day of Paralympic competition on 28 July.
Big names competing in London from 26-28 July include Usain Bolt and British Paralympic star Jonnie Peacock.
"I've heard absolutely nothing about the Anniversary Games," said Smyth.
The visually-impaired Irish sprinter repeated his T13 100m and 200m double from Beijing at last year's London Paralympics and is the fastest Paralympian in history.
Smyth was lauded by the huge London crowds last September and was one of the faces of Paralympics as he received worldwide exposure. But seven months on, he is disappointed by the apparent snub that he has been dealt.
"You would expect if they want to push Paralympic sport forward and make it more recognised that logically, you would use the best athletes to promote it," added Smyth, who narrowly missed out on qualifying for the Olympics in London.
"You are going to have the Olympic athletes competing just before the Paralympic day and you are going to invite the Usain Bolts and the other top athletes. To me, Paralympic sport should be no different," he said.
"To come out of last year's games as the fastest Paralympian on the planet - isn't that somebody you would think you would want to have at the Anniversary Games?"
After learning that the Anniversary Games programme did not include his T13 sprint events, Smyth did contact Paralympics Ireland by email in order to see if they could find out more information and make representations on his behalf.
But so far, the Londonderry man has heard nothing back from the Irish Paralympic governing body and as it stands, he looks likely to be an absentee from the London meeting.
Paralympics Ireland general secretary Liam Harbinson said that his organisation is continuing to make efforts to help secure Smyth a place at the London meeting.
"My understanding is that the Anniversary Games event is run by UK Athletics... and they primarily want to focus [the Paralympic day] on UK athletes," Harbinson told BBC Radio Ulster.
"But I would like to see Jason compete in London and we are working in the background in the hope of helping to make that happen. The process hasn't been finalised yet and we'll have to see what the final decision from UK Athletics is."
After the euphoria and acclaim of last September, Smyth wonders whether he is a victim of "out of sight, out of mind" syndrome because he is based in the USA.
He admits that after his stunning performances in London, he had expectations that some sponsors might come on board but those hopes have, so far at least, proved to be misplaced.
"In the UK and Ireland everybody knew about the Paralympics. And coming out of it, I had the two gold medals and couldn't really have done any more than that.
"After that, I suppose you expect things to gather a bit of momentum but it has been completely the opposite. Nothing has changed."
As has been the case for several years, Smyth has spent the winter months at the National Training Centre in Clermont, Florida, working with a group of athletes which includes sprint star Tyson Gay.
His long-time coach Stephen Maguire is no longer based in Florida after starting a new role as Scottish Athletics' director of coaching last October.
Smyth said: "Financially, we couldn't sustain what we were doing. We kept hoping that as things improved, and I hopefully won Paralympic medals, that things would change but they never did and it got to the point where it had to change for Stephen."
With Maguire no longer in Florida, the recently-married Smyth now takes his principal direction from the main Clermont coach, Lance Brauman.
Smyth "blew out the cobwebs" with a modest 21.30 seconds 200m clocking in Gainesville last weekend but he insists that training has been "going well" as he earmarks his 100m season-opener at his 'home' track in Clermont on 11 May.
The 25-year-old's principal competitive targets for the season are the International Paralympic Committee's World Championship in Lyon in July and the mainstream World Championships three weeks later in Moscow.
Smyth did compete alongside Bolt and other able-bodied stars at the World Championships in Daegu in 2011 but he will need to improve his personal best to qualify for the Moscow games with the B standard of 10.21 - which is .01 secs inside his lifetime best set on the Clermont track two years ago.