Martin McGuinness calls for Jason Smyth Anniversary Games invite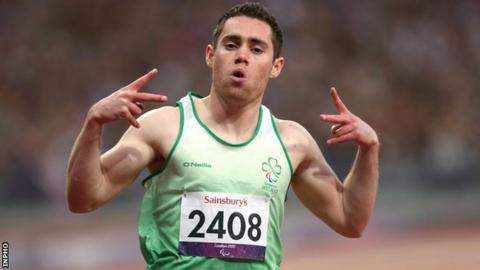 Northern Ireland's Deputy First Minister Martin McGuinness has urged the organisers of the London Anniversary Games to ensure that Jason Smyth competes at the meeting.
Four-time Paralympic gold medallist Smyth is frustrated at not being invited to the 28 July event.
Organisers British Athletics (BA) said they had to be "selective" about their choice of events.
However, McGuinness called on BA to "please sort it".
Both McGuinness and the Paralympian are from County Londonderry and the former wrote on Twitter that he was "disappointed that Jason Smyth, star four-time Paralympic gold medallist, might not be at the London Anniversary Games".
In a BBC interview on Tuesday, Smyth expressed frustration at not being given the chance to compete at the meeting, which takes place on the first anniversary of the London Olympics' opening ceremony.
"You would expect if they want to push Paralympic sport forward and make it more recognised that logically, you would use the best athletes to promote it," said Smyth.
"You are going to have the Olympic athletes competing just before the Paralympic day and you are going to invite the Usain Bolts and the other top athletes. To me, Paralympic sport should be no different."
But the event organisers, British Athletics and the International Paralympic Committee, defended the decision not to invite the 25-year-old Northern Irishman.
"Working with the IPC we only have a three-to-four hour programme on July 28 and so unfortunately we have to be selective about the events we choose," a BA official told the insidethegames website.
The current schedule has four 100m races including British Paralympic gold medallist Jonnie Peacock's T44 event.
The BA spokesman added: "One of the most memorable moments from the Paralympic Games was Jonnie Peacock's famous 100m victory... so it makes sense for us to include his race in the schedule."
IPC communications and media director Craig Spence also defended the decision not to invite the fastest Paralympian on the planet to the London meeting.
"At London 2012 we had 170 different track and field events spread over 10 days," Spence told insidethegames.
"This included 15 men's 100m races involving different classes.
"Clearly we cannot include every single event from London 2012 in the programme which was proposed by British Athletics and approved by IPC Athletics," Spence said.
"We are aware that there will be some disappointed athletes. However, they can now focus fully on July's World Championships in Lyon, France."
The visually-impaired Northern Irish sprinter repeated his T13 100m and 200m double from Beijing at last year's London Games but will not get the chance to compete again in a packed Olympic Stadium on 28 July.
Smyth was lauded by the huge London crowds last September and was one of the faces of Paralympics as he received worldwide exposure.