Peacock will compete in the Great CityGames Manchester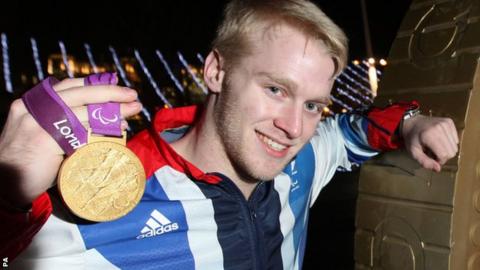 Jonnie Peacock will compete at Great CityGames Manchester on 25 May, in his first race since winning 100m Paralympic gold at London 2012.
Peacock, 19, had previously bemoaned a lack of Paralympic events since London.
"I was worried we would have to wait four years until we got some good coverage and races," said Peacock.
Olympic long-jump gold medallist Greg Rutherford and Paralympic long-jump silver medallist Stefanie Reid will also be competing.
In addition, six Paralympic grand prix events have been brought together by the International Paralympic Committee (IPC), in a bid to create an elite series for Paralympic athletes.
The first events took place in Dubai, Beijing and Sao Paulo in March 2013, before competitions in Grosseto (in Italy), Arizona, Berlin and Birmingham in May and June.
Peacock, who underwent ankle surgery four weeks after London 2012, said: "It's good to see now that people are taking an interest in Paralympic sports.
"We're getting faces recognised and getting athletes out there in events that we wouldn't last year."
Now in its fifth year, the Great CityGames Manchester welcomes Paralympic athletes for the first time.
In 2009, Usain Bolt set a new world record for the straight 150m distance at the event, and a year later Tyson Gay did the same for the straight 200m.
Peacock will also compete at the London Anniversary Games from 26-28 July, along with Olympic champions Bolt, Jessica Ennis and Mo Farah.