Michael McKillop clinches second IPC World gold medal in Lyon
Last updated on .From the section Disability Sport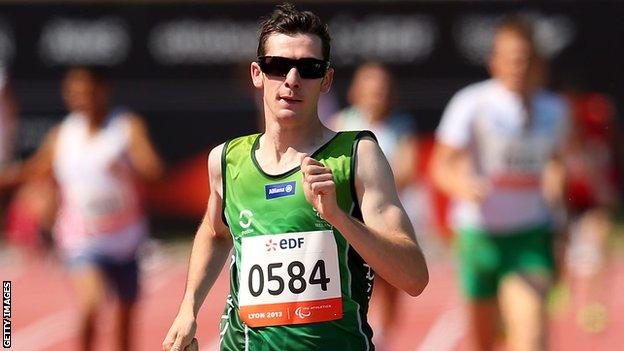 Michael McKillop clinched his second gold medal at the IPC World Championships in Lyon as he eased to victory in the T38 1500 metres final.
The Northern Irishman was more than two seconds ahead of Tunisia's Abbes Saidi, with Australia's Deon Kenzie third.
Jason Smyth is aiming to match his fellow countryman's two golds after qualifying for the T13 100m final.
Glengormley runner McKillop, who won two gold medals at last year's London Paralympics, finished first in the 1500m event in a world record time at the 2011 World Championship in Christchurch but was not awarded a gold medal because of the lack of entries.
However, he will travel home from Lyon with two golds after another dominant performance on Wednesday.
McKillop's 1500m world record is 3:59.54 although he has run as fast as 3:51.79 in able-bodied competition.
The 23-year-old didn't need to produce those kind of times in Wednesday's extreme heat in France as he ran a cautious opening 700m before taking control of the race.
"I was plodding along early on and the plan was to go at about the halfway mark," McKillop told BBC Sport.
"Thankfully I got away early with the spurt I put in. I was able to relax after that and then I kicked on again.
"I'm very happy because I set out to win the double.
"Running personal best in able-bodied competition helps."
McKillop is looking ahead to the IPC European Championships in Swansea next year and the 2016 Rio Olympics.
He said: "It has been a good year for me and I can now refresh myself and come back for the Europeans in Swansea in 2014 and then the big one in Rio.
"Whenever you race against able-bodied people, they don't give you anything because you have a disability.
"You have to fight right to the end and that is the sort of person I am and I want to beat as many people as possible."
McKillop's Irish-team Smyth, who won 200m gold on Sunday, clocked a championship record of 10.72 seconds in Wednesday morning's 100m semi-final as he finished 0.33 ahead of Nambala Johannes.
The Namibian finished second behind Smyth in Sunday's 200m final.
Smyth equalled his own T13 200m world record when he took gold in that event in 21.05 seconds on Sunday.
He will hope to better his world record of 10.46 in Thursday's final, which is scheduled to take place at 18:15 BST.
The only other qualifier for the final who ran under 11 seconds on Wednesday was 200m bronze medallist South African Jonathan Ntutu who clocked 10.99 seconds in the second semi-final.
"A good comfortable run out in the semis this morning. Now chill and get ready to kick it up a notch tomorrow," Smyth wrote on Twitter after his run on Wednesday.
The Northern Irishman has a personal best of 10.22, which he ran in able-bodied competition in 2011.