Jonnie Peacock v Richard Browne - the rivalry Paralympics needs

By Andy Swiss
BBC sports news correspondent
Last updated on .From the section Disability Sport8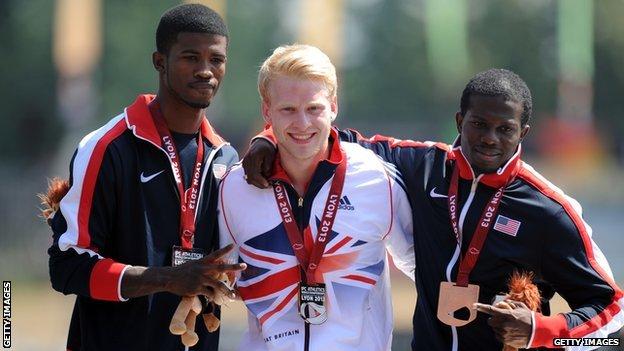 Wearing a broad grin and holding up a large Union Jack, Jonnie Peacock looked as if a weight had been lifted from his shoulders.
After all the pressure, all the questions, he had delivered.
American Richard Browne might have taken his T44 100m world record 24 hours earlier, but Peacock, who won Paralympic gold in London last year, had taken the world title by a whisker.
The 20-year-old Briton's delight, though, was about more than just the gold medal.
In Peacock v Browne, Paralympic sprinting has the new rivalry it had been craving.
"It was just me before," Peacock told me. "Now it's fantastic to have Richard Browne alongside me. It's great to have someone I can run with - to be with me throughout a whole race - so I'm excited about the future and the races to come."
Paralympic athletics has sometimes thrived on remarkable individuals rather than spellbinding rivalries.
Before these championships, Britain's Hannah Cockroft - so dominant in her class - said she wanted to be challenged.
Then of course, there's the man who is so conspicuously absent here in Lyon. For many, Oscar Pistorius was the Paralympics.
Some thought the sport would struggle without the South African, who is awaiting trial after being charged with the murder of girlfriend Reeva Steenkamp.
Instead, it is using the absence of the 26-year-old, who won numerous titles and set multiple world records, to express a new confidence, thanks to a new generation of stars born out of the success of London 2012.
Cockroft, who has won two golds at the IPC Athletics World Championships here, is one of them.
"We've made new heroes who can fill that hole and show that we can all do what Oscar did for this sport," said the 20-year-old.
"These World Championships show that people don't come just to see him run, but to see us all compete."
But for some, those who competed against and became friends with Pistorius, Lyon represents a bittersweet experience.
"My heart goes out to Oscar," said American sprinter Jerome Singleton. "He was one of my close friends. He's why I started this sport. It hurts, but I'm just thankful to be here."
Blake Leeper, another American, strikes a more defiant note.
"Even without Oscar, we can still carry on the torch," he said. "There are 420 other Paralympians out there working just as hard and running just as fast."
The emphasis now is on the sport's collective strength.
Yes, there are still some mismatches, but, as Peacock v Browne shows, the margins are getting finer and the competition even tougher.
At London, the single and double leg amputees all competed in the same 100m event.
Here in Lyon, they have been split in to separate races because organisers feel they have the strength in depth to sustain two classes. It also means the playing field is more level.
The crowds are impressive, too. While they are a fraction of what we saw at London's Olympic Stadium, the thousands watching in Lyon are a vast improvement on the last World Championships in 2011.
"In New Zealand, if there were about 100 people we were lucky," remembered Cockroft.
Paralympic athletics may be without its most famous individual, but Lyon is proving that it is not just a one-man sport any more.