Bethany Firth wins silver in 200m freestyle in Montreal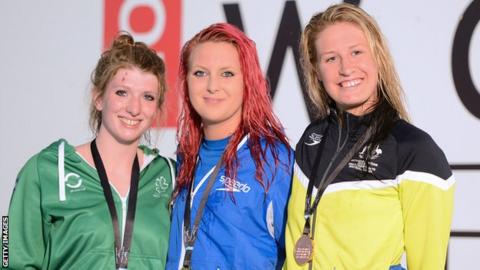 County Down's Bethany Firth has won a silver medal in the 200 metres freestyle S14 event at the IPC World Championships in Montreal.
The 17-year-old from Seaforde was runner-up to Great Britain's Jessica Applegate, the world record holder, in Monday's final.
Firth, who won backstroke gold at the London Paralympics, had a personal best time of two minutes, 11.91 seconds.
That was over 1.5 seconds ahead of Taylor Corry from Australia in third.
Darragh McDonald from Wexford secured Ireland's first gold medal in Canada by winning the 400m freestyle S6 final.
On Wednesday, Firth, the youngest member of the six-strong Ireland team, will take part in the 100m backstroke
Firth took gold in that event in London in a time of 1:08.93 but has since improved her personal best in the event to 1:05.76.
Firth will also compete in the 100m breaststroke on Friday.