Paralympics are the people's Games - Sophie Christiansen
By Sophie Christiansen
Triple Paralympic equestrian gold medallist at London 2012
Last updated on .From the section Disability Sport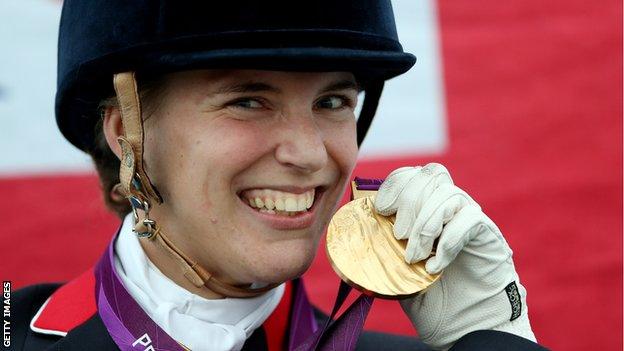 They were described by International Paralympic Committee president Sir Philip Craven as "the greatest Paralympic Games ever" with record crowds and brilliant performances.
And Great Britain athletes produced an impressive series of results, beating their target with 120 medals, including 34 golds.
A year to the day since the start of the London 2012 Paralympics, equestrian star Sophie Christiansen, who won three Para-dressage gold medals in London, talks about the legacy of the Games.
Great Britain showed the world how the Paralympics should be done, building on the lessons learned by previous host cities.
By planning the Olympics and Paralympics together, the organising committee ensured that the latter was no longer treated as an afterthought, securing record-breaking ticket sales and guaranteeing that the excitement of London 2012 lasted long into September.
Mainstream media coverage also brought the Paralympics into the spotlight and showed everyone how exciting disability sport can be.
As an athlete, I shall never forget competing in front of a 10,000-strong home crowd and feeling the buzz of anticipation in the air as spectators willed me on to three gold medals in the stunning surroundings of Greenwich Park.
In my opinion, the Paralympics are the people's Games.
Not everyone can run as fast as Usain Bolt, but everyone has challenges to overcome.
Paralympic athletes showed what could be done by having the drive and determination to fulfil their potential.
London 2012 inspired a generation. Now, a year on, the word on people's lips is "legacy".
How can we measure the impact the Games had upon both the nation and the world?
To all those who claim there is no legacy, is not the fact we are still talking about the Games a form of a legacy in itself?
As a member of the Paralympic Legacy Advisory Group, I could reel off a list of things that I believe prove there is a lasting legacy.
But have we gone far enough?
A lot of Paralympians are now household names and sporting superstars.
However, just as every able bodied person isn't an elite athlete, not every disabled person is a Paralympian.
And you don't have to win a gold medal to achieve.
Sitting up straight for a child with severe cerebral palsy or communicating with others for those with autism is an achievement in itself for some.
In my view, we need to use the momentum of the Games to keep perception of disability at an all-time high.
I would like to see an increase in the number of disabled people taking part in physical activity.
I still maintain that sport is the best form of therapy I could have. Being fit certainly reduces the limitations my disability puts on my body.
The healthier and fitter you are, the more you can do for yourself, too. And the more independent and self-confident you become, the more likely you are to want to join society and get a job.
I also hope the Paralympics continue to give disabled people the worldwide stage to show what they can do and enable them to highlight and speak out on issues important to them.
One final thought.
Everyone should be encouraged to fulfil their potential and follow their dreams in whatever area they want, whether that is sport, business, academia or arts.
To be the best in the world as an athlete, you have to keep on improving. By creating an inclusive and diverse Britain, releasing untapped talent and enhancing lives, we will also be world leaders.