Jody Cundy lets go of 'Commonwealth dream'
By Chris Osborne
BBC East Sport
Last updated on .From the section Disability Sport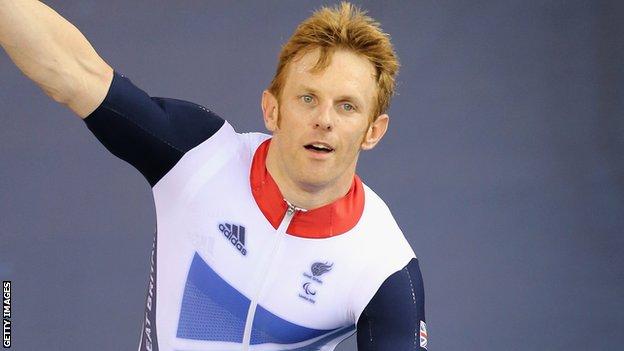 Paralympic champion Jody Cundy has said his "pipedream" of qualifying for next year's Commonwealth Games is over.
The 34-year-old was the fifth-quickest Englishman in the kilo at last week's British track championships.
"This year was easily the toughest competition I've ever faced," the Wisbech athlete told BBC Sport.
"I think that is the end of my Commonwealth dream now. I always knew it was a bit of a pipedream but it was something I could aim for."
Cundy's time of one minute, 5.029 seconds was enough to finish eighth overall in Manchester, more than three seconds
But it was a new personal best and world record time in the C4 category for the 2008 Paralympic gold medal winner, who also came third in the C1-5 pursuit.
"It was good to do the PB and to know the training is going in the right direction," he said.
"I think there's more to come, but a PB is a PB so you have to be happy somewhere.
"I am going to continue setting myself benchmarks and getting myself down to the best times.
"At some point I need to start focusing on the Paralympic cycle for Rio and that means starting to do the 4km pursuit again."
Cundy won bronze in the 4km pursuit at London 2012 but has since
An international meeting in Newport in November is expected to attract top names, but Cundy hopes the election of Brian Cookson as
"He has said the whole paracycling programme was a bit sparse," said Cundy.
"Hopefully there will be a better foundation for both road and track events. Just by having him mention it means it can move forward and maybe get sorted.
"We've been overlooked for so long now it's nice to have a change and a fresh look at things."