Michael McKillop aims for quick return despite foot injury
Last updated on .From the section Disability Sport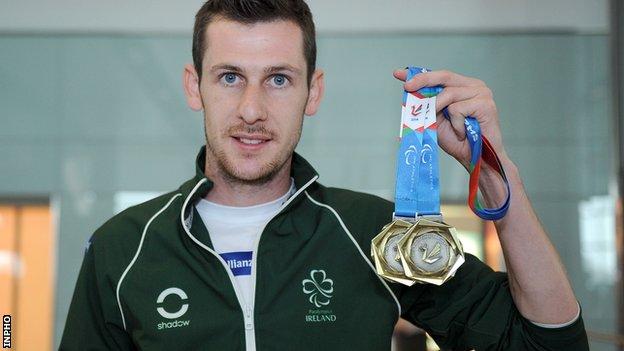 Paralympic star Michael McKillop aims to resume light training in about a month after suffering a sprained foot.
The three-times Paralympics gold medallist sustained the injury after taking a tumble at home over the New Year period.
"Initially, it was thought to be a fracture but it turned out to be a sprain," said the Northern Irishman.
McKillop's main focus in 2015 will be defending his IPC World Championship titles in Doha.
The championships will take place in the Qatari capital in late October so the 24-year-old has plenty of time to get himself ready.
"I had got in several weeks of good training in the autumn and early part of the winter before getting the injury so that should stand to me," McKillop told BBC Sport Northern Ireland.
"But the injury is a bit frustrating. It's kind of the same scenario as last year when I was out for the entire winter and most of the Spring because of an injury in the same foot.
"It's not the same injury this time around and hopefully recovery will be quite a bit quicker.
"I should have the plaster off in around 10 days and I might be put in a protective boot for a few weeks but hopefully I should be able to start light running in the middle of February."
McKillop has already begun undergoing rehabilitation at the Sports Institute of Northern Ireland at Jordanstown.
The Glengormley athlete plans to compete on the able-bodied circuit during the summer before refocusing on his autumn challenge in Doha where he will defend his T37 800m and 1500m world titles.