Belfast gymnast Devlin wins double gold at Special Olympics
Last updated on .From the section Disability Sport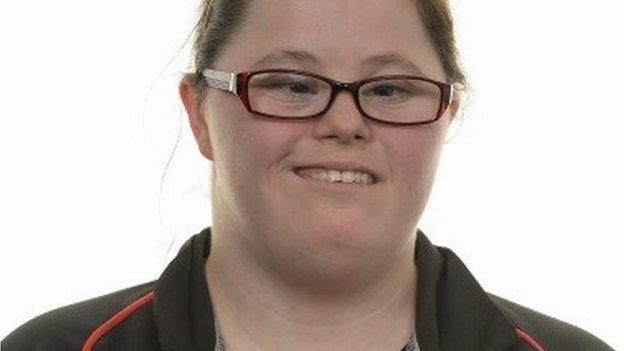 Belfast gymnast Kirsty Devlin has won two gold medals and two silver at the the 2015 Special Olympics World Summer Games in Los Angles.
The 20-year-old won gold in the Ribbon and Rope events with silver coming in the Ball and All Round categories.
"I'm so proud - the tears are in my eyes watching Kirsty. She's just amazing," said her mum Elizabeth.
Lurgan swimmer Sarah Jane Johnston has won two bronze while the Ireland team's medal haul is now 15.
Devlin, who trains with SALTO Gymnastics Club in Lisburn, won Ireland's first gold medal at the Games.
"The whole family is so proud of her. There are four of us out here in LA supporting Kirsty - myself, my brother and his wife and my son," added her mother Elizabeth.
"She'll be a celebrity when she gets home - everyone will shake her hand and congratulate her. They all love her back in Belfast - everyone loves her!"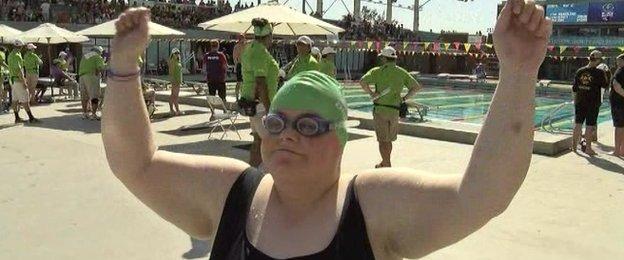 Shaun Cassidy, regional director of Special Olympics Ulster, also praised Devlin's performances at the Collins Court Wooden Centre in UCLA.
He said: "Our congratulations go to all of the athletes and particularly Ulster's Kirsty Devlin, who won the first gold medal for Team Ireland and four medals in total, which is a sensational achievement."
Devlin also finished fourth in the Hoop while Peter Malynn of Mulligar won Ireland's third gold in the Bocce singles.
LA Galaxy and Republic of Ireland captain Robbie Keane cheered on Ireland's 11-a-side team against Bangladesh in their opening game, which they lost 4-1.
"The scoreline didn't do the lads justice. They are obviously disappointed but it's important they pick themselves back up now," said the Team Ireland ambassador.