World Wheelchair Curling: Scotland to face Norway for final spot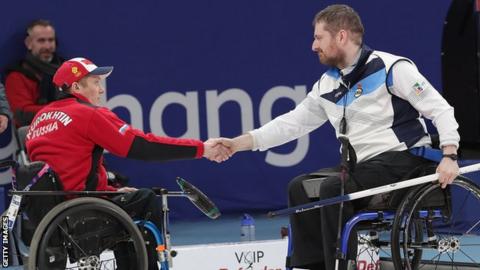 Scotland will face Norway on Saturday for a place in the final of the World Wheelchair Curling Championship in South Korea.
The Scots, who finished second after the round-robin stage, lost 4-2 to round-robin winners Russia on Friday in their first chance to get a final spot.
They have a second chance to progress against the Norwegians, but defeat will see them face China for bronze.
The Scots easily beat Norway 13-2 in the round-robin phase.
In Friday's play-off, the team of Aileen Neilson, Rob McPherson, Gregor Ewan and Hugh Nibloe trailed Russia 2-0 after two ends and although the Scots pulled one back after four ends, Russia maintained their advantage.
Russia are currently not eligible to compete at next year's Winter Paralympics after the International Paralympic Committee banned them from all Paralympic competition over allegations of state-sponsored doping made in the McLaren report.
However, they are able to compete in this event as it is not run by the IPC.