David Weir wins Paris Marathon as he prepares for London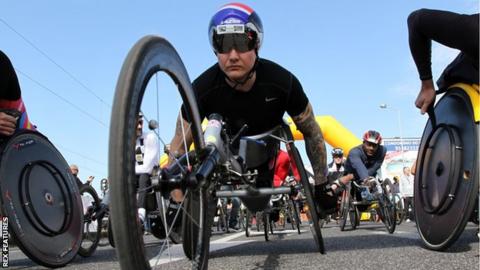 Britain's six-time Paralympic champion David Weir won the Paris Marathon men's wheelchair race.
Weir, 37, clocked one hour 29 minutes 25 seconds as he prepares for the London Marathon, his final race before retiring, on 23 April.
Husband and wife Kenyans Paul Lonyangata and Purity Rionoripo won the respective men's and women's races.
Lonyangata won in two hours six minutes 10 seconds, while Rionoripo's time was two hours twenty minutes 50 seconds.
"I'm so happy, it's a great day for me to win and to beat my personal best," said Rionoripo.