'I'm handing back my medal': Is Paralympic sport classification fit for purpose?
By Paul Grant
BBC File on 4
Last updated on .From the section Disability Sport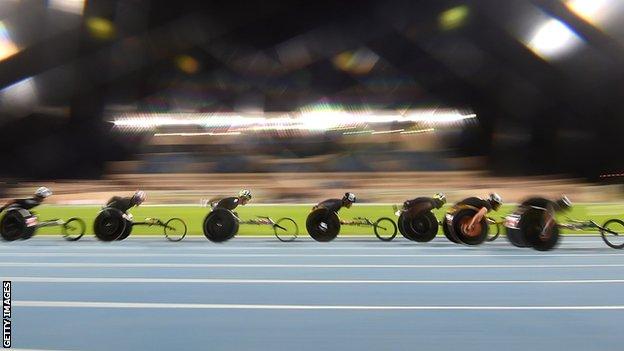 With a medal being handed back, officials alleging dirty tricks, and calls for an independent system to judge levels of disability, is Paralympic sport losing trust?
A File on 4 special - Paralympic Sport - Fair Play?- spoke to athletes, parents, coaches and classifiers, and uncovered claims of tactics including the taping up of arms, taking cold showers in trunks and even surgery to shorten limbs in a bid to cheat the system.
Such abuse of the process has been described as "akin to doping".
And the BBC can reveal lawyers for governing body the International Paralympic Committee (IPC) are investigating whether several athletes and coaches have deliberately exaggerated disability to boost their chance of winning.
The classification system itself has also been criticised, with concerns classes have been opened up, allowing less impaired athletes to compete.
'I'm heartbroken - I'm handing my medal back'
British T37 200m sprinter Bethany Woodward has handed back a relay medal she won from an event in the past four years, telling File on 4 the inclusion of one of her team-mates was "giving us an unfair advantage".
As there is no suggestion the athlete has done anything wrong, the BBC has chosen not to name them.
"[I was] heartbroken. I feel like we won a medal I don't believe was true," said Woodward. "I don't want this medal any more... I can step away with a clear conscience.
"It's not about world records, gold medals. Paralympic sport is about disabled people pushing themselves and overcoming their diversity.
"Handing back this medal will mean all the medals I won are to do with me, my cerebral palsy and my strength."
Woodward, who won an individual silver medal at London 2012, gave up her funding and walked away from the sport, claiming she had lost faith in the way the team was selected.
"In London 2012 there was no-one in my classification I thought shouldn't be there... but then suddenly classes seemed to be opening up. It was like a snowball of lots of people coming in and no way of saying: 'Hold on, is this right?'"
Liz McTernan, a medal-winning Para-triathlete and record-breaking hand cyclist, said: "I think people need to have their bubble burst actually. Because we're not all inspiring, we're not all ethical."
McTernan, who has gone through classification in seven different Para-sports, added: "There are people out there who only care about getting their funding from the national governing body and getting a gold medal around their neck.
"If I had a gold medal from faking it or being the least impaired person in my category, I wouldn't feel like it was worthwhile. It's akin to doping."
Paralympic wheelchair racer John Smith agrees.
"It's not all about doping to be a cheater," he says. "If you know you're in the wrong category, racing against people who've got no chance of beating you, you may as well be on drugs.
"When I was classified they asked: 'What do you think you are?' To get medals... all you've got to do is lie a little bit.
"Some people you can look and see they're in the wrong category, but no-one bats an eyelid because they love these gold medals.
"Somebody said to me when I first started that when you get good you enjoy it less because it becomes like a business. You're a piece of meat with a number stuck on your back and if you don't perform, you're gone. That's the cold, hard truth of it."
What is the background?
The classification system puts athletes into groups depending on the level of their impairment to try to ensure fair competition - and the IPC is responsible for classification for all international Paralympic athletes.
In Para-swimming, for example, the IPC has previously warned that intentional misrepresentation - where athletes pretend to be more disabled than they are to compete in a more favourable class - was in "grave danger of undermining the credibility of the sport".
World Para-swimming is in the process of reviewing its system, with British Swimming telling the BBC it is "supporting" that work.
But it is notoriously difficult to prove to the legal standard of "beyond reasonable doubt" - a recent IPC report found no clear evidence of "intentional misrepresentation" after analysing 80 cases.
Domestically, after the issue flared up again before the Rio 2016 Paralympics, a UK Athletics review found "a wide consensus" that the system for classifying British track and field Para-athletes "could be abused" and some concern it was "open to exploitation".
However, the review, published in March, also found "no substantive evidence" to suggest widespread cheating.
In a statement to File on 4, UKA referenced the review, saying it "made clear that UKA staff showed a strong desire to be ethically above board and see the sport's classification rules implemented consistently and without favour".
It added that review's recommendations to make the domestic system "even more robust" were "being implemented".
So what is new?
Peter Van de Vliet is the IPC's medical and scientific director and its head of classification. He told File on 4 he gets emails every day with allegations of people faking impairment.
He said he has "no control" over countries recruiting athletes at the higher end of each disability class, admitting "nations tend to recruit athletes in view of medal chances and financial support that may come from medals at major events and Paralympic Games".
But in terms of individuals actually cheating the system, Van de Vliet said: "We have athletes we are monitoring very closely to see if there have been a consistent manifestation during performances.
"We are running some investigations at the moment. Some cases have been processed to external independent legal counsel. They now act on it and follow up the investigations. The number [of cases being investigated] is fewer than 10."
What are the cheating tactics?
The File on 4 investigation interviewed current and former classifiers around the world who all spoke on the condition of anonymity.
They claimed the following tactics were allegedly employed by athletes and their coaches to manipulate the system:
Swimmers with cerebral palsy put into cold environments in swimwear to make their spasticity [alteration in muscle tone] worse.

Athletes turning up to classification in wheelchairs when they do not normally use them.

A swimmer's arm being strapped up for days, with the tape taken off just before classification so they could not fully stretch their arm.

An amputee swimmer having more of a limb removed and moving classifications. When questioned about the surgery, they replied "it was to advance their career".

Classifiers can also be coaches in the athlete's sport and compromise the process.
Are there any solutions?
File on 4 has been told the Department for Culture, Media and Sport is to hold an evidence session into classification as part of its ongoing inquiry into sports governance.
Peter Eriksson - head coach of the ParalympicsGB team at London 2012 - says classifiers are doing "the best they can" but believes the task should be done by an independent organisation, similar to the way in which the World Anti-Doping Agency tackles drug-taking in sport.
"Classification cheating should get the same penalties we have for doping infractions and you have to have really good evidence to make sure it happened," he said. "But I think with an independent organisation you would see less of any questionable classification happen."
Van de Vliet agrees: "I would definitely sign up for that one. With that comes a cost - who is going to pay that bill?
"The sport is not as rich as people might think. The cost needs to be looked at, but it is fully supported at our end - it is the way to go in the long term."