Baroness Grey-Thompson says Para-athletes told not to speak out about classification
Last updated on .From the section Disability Sport
British athletes were threatened with not being selected if they spoke out about classification concerns in Paralympic sports, MPs have been told.
"It's somewhere between bullying and control," said 11-time Paralympic champion Baroness Tanni Grey-Thompson.
She was speaking at a Parliamentary committee hearing into claims athletes were cheating the system.
It was announced last week that classification rules would be revised, with effect from 1 January.
A BBC investigation found tactics such as taping up of arms, taking cold showers in trunks and even surgery to shorten limbs had been used by athletes to get into a more favourable class.
Former wheelchair racer Grey-Thompson was a witness at a Digital, Culture, Media and Sport select committee and was questioned about evidence she gathered for her duty of care in sport review last year.
Asked whether athletes faced consequences for speaking out, she said: "The repercussions that were reported to me were things like deselection from the squad or the team, lack of access to funding, media coverage.
"This was across a whole range of issues, but this also came up that in some cases people were told not to report classification.
"It could be a range of coaches, other team members, medics - it could be a whole range of people who would just say: 'Don't speak out about it.'"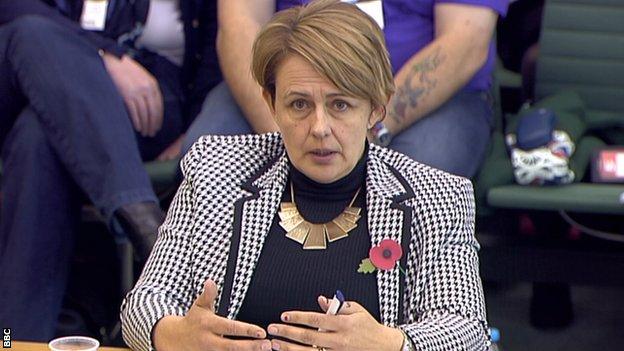 Key points from the hearing
Grey-Thompson said she had heard from athletes and their parents who believed the classification system was open to abuse and had been abused by athletes.

Michael Breen, father of T38 long jump world champion Olivia, said athletes did not speak out because they had been "intimidated and bullied".

Breen recounted a conversation with British Para-athletics head coach Paula Dunn in which he says she suggested Paralympic sprint champion Sophie Hahn was competing in the wrong category.

He had promised to give "explosive" evidence but committee chairman Damian Collins warned him against naming individual athletes.

Hahn said in a statement she would welcome the chance to give evidence to the committee, and that "it is distressing for any athlete who is in the correct class in Para sport to face such repeated and unfounded allegations".

Breen said he met the International Paralympic Committee's (IPC) head lawyer Mike Townley, who shared documentation with him about an incorrect classification - an athlete with "remitting and relapsing" multiple sclerosis in the T38 class, which includes those with cerebral palsy.

Breen claimed IPC summer sports boss Ryan Montgomery told him British athletes had been manipulating the system since the arrival of Dunn's predecessor as Para-athletics head coach, Peter Eriksson, and Breen suggested a "very successful" T34 athlete had been improperly moved from a more competitive class.

Eriksson was prevented from giving evidence via video link from Canada because of technical issues but disputes Breen's account.

Breen accused ex-UK Athletics chief and World Para-athletics technical boss Ed Warner of telling Townley "to drop" a classification inquiry. The IPC says it is looking into Breen's evidence of a meeting with Townley.

In written evidence, the IPC says it reviewed complaints from Breen last year and ruled athletes were in the correct class.
When asked by Giles Watling MP if the system is fit for purpose, Grey-Thompson said: "We need to ask the question whether classification is fair and transparent and whether athletes can make an appeal or complaint in an open and fair process.
"Judged on what I have been told, I don't believe we can confidently answer that question right now."
But British Paralympic Association chief executive Tim Hollingsworth said: "Fundamentally I don't believe we're looking at something that can be considered not fit for purpose."
He offered a very qualified apology to any athlete or parent who felt aggrieved by the process.
What are the cheating claims?
A Radio 4 File on 4 special revealed lawyers for the IPC are investigating whether several athletes and coaches have deliberately exaggerated disability to boost their chance of winning.
British T37 200m sprinter Bethany Woodward handed back a relay medal she won from an event in the past four years, telling the programme the inclusion of one of her team-mates was "giving us an unfair advantage".
As there is no suggestion the athlete has done anything wrong, the BBC has chosen not to name them.
Woodward, who won an individual silver medal at London 2012, gave up her funding and walked away from the sport, claiming she had lost faith in the way the team was selected.
The IPC said it strongly refutes suggestions the classification system is broken
"To date there have been no substantiated allegations regarding intentional misrepresentation in Para sport," it said in a statement
"We are fully aware of rumours and allegations about cheating in classification and follow-up on the cases that are brought to our attention. Ahead of Rio 2016, the IPC investigated the cases of more than 80 athletes from 24 countries across six sports.
"Following these investigations it became clear to us that we need to work further with our members on the processes whereby athletes can share their concerns regarding classification."
Analysis
Kate Grey, former British Paralympic swimmer
The rate that Paralympic sport has grown has made it a victim of its own success.
An increase in nations and athletes taking part, the inclusion of new disabilities and medical advancements, has left the classification system struggling to cope with the growing demand.
But there is no straightforward solution. It is a complex system that requires a huge amount of research and manpower to make it fair and consistent on an international scale.
The IPC's recent announcement that it will review the classification rules and regulations in athletics has been met with a backlash from athletes over fears it will make competition less challenging.
The priority for the IPC is to acknowledge all the evidence provided and act accordingly to improve the process whereby athletes can share their concerns regarding classification.
How does the classification process work?
The World Para-athletics classification system is aimed at determining eligibility and dividing competitors into appropriate categories.
Allocation

- The IPC says the aim is that each group consists of athletes who have impairments that cause roughly the same amount of activity limitation.

Category

- A classification panel allocates each athlete with a sport class, although some may be classified a number of times during their career.

Numbers

- Classes are given a number, and each is prefixed with either a 'T', which stands for 'track', or an 'F' for 'field'.

Groups:

Impairments are split into groups - for example, visually impaired athletes are in the tens (T11, T12 and T13); athletes with co-ordination impairments are in the 30s (T31-38), and T42-47 covers those with limb deficiencies. The lower the number, the more severe the impairment.