Pyeongchang 2018: GB snowboarder James Barnes-Miller has £10,000 worth of kit stolen
By Michael Emons
BBC Sport
Last updated on .From the section Disability Sport
British snowboarder James Barnes-Miller hopes to still qualify for the 2018 Winter Paralympics despite having £10,000 worth of equipment stolen.
Barnes-Miller had gear, including custom-made boards, taken from a Volkswagen van parked outside a house in Disley, Cheshire over the weekend.
He hopes to compete in his first Paralympics in Pyeongchang in February.
"It is gutting. Training has been going amazingly, I couldn't have asked for a better summer," said the 28-year-old.
"I got back on Saturday night to Disley, I had been away for five weeks training with the team, got back super late and went to bed.
"I woke up and found out the back window had been popped open and they had taken my snowboard bag, my coach's snowboard bag and some of the team's kit.
"Normally everything comes out of the van, it's just the one time I don't, this happens. I could think about it for hours but it's not going to help me."
Barnes-Miller, who was born without a right hand, has been snowboarding for seven years and on the British team for three years, competing in upper amputee snowboard cross and banked slalom events.
He came fourth in the snowboard cross at the World Championships last year and also won silver medals at two World Cup events.
The next World Cup race takes place in the Netherlands in November, an event which acts as a qualifying event for the Games in South Korea.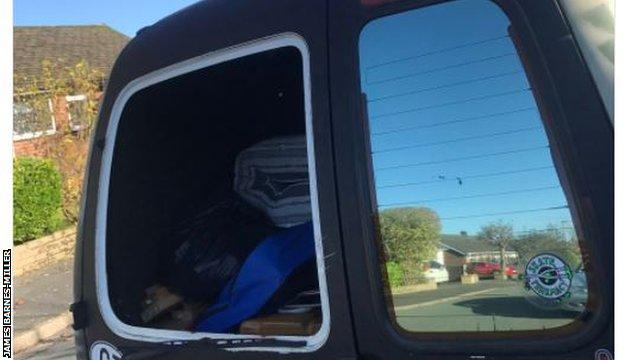 "I have my first World Cup in two weeks and I need to find new kit, not just a board, it's everything and all that kit has been modified and customised. It's not just buy a new board off the shelf," Barnes-Miller told BBC Sport.
"I don't think they were targeting me, there's not a lot they can do with my stuff, it's not your usual snowboards. It would be nice if someone finds it. It's no good to anyone else, but I'm not holding my breath.
"All the team are supporting me and finding equipment from everywhere. Hopefully I can get back and get some training. We set up a funding page and am trying to get some sponsors to get it back.
"This is just a knockback. In my first season I broke my leg so these things happen and you have to adapt. I still feel confident, I still feel fit and I'm riding the best I have ever done.
"It would be incredible to call myself a Paralympian. If I got on the podium it would be a dream come true."
A Cheshire Police spokeswoman confirmed the incident happened between 23:30 BST on Saturday, 28 October and 10:30 GMT on Sunday, 29 October.
Anyone with any information can call Cheshire Police on 101, quoting incident number 403. Alternatively, you can call Crimestoppers anonymously on 0800 555111.