Boccia: Great Britain top European medal table with three golds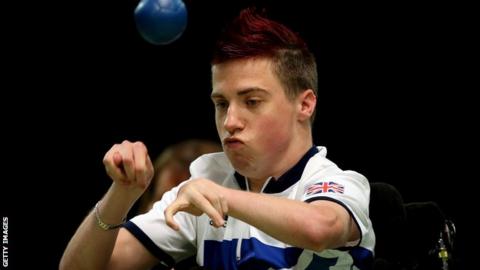 Great Britain's boccia team topped the leaderboard with three gold medals at the European Championships in Portugal.
David Smith came from 4-0 down against Mikhail Gutnik of Russia to clinch a 5-4 victory in BC1.
Jamie McCowan, with assistant Linda McCowan, lost all six points on the first end but rallied to win his first European title 8-7 in BC3.
In BC4 Stephen McGuire beat Russia's Sergey Safin 6-1 to add the European crown to his world title from 2016.
Britain finished the competition with five medals from seven events, having also captured silver in the BC3 and BC4 pairs.
What is boccia?
The sport made its Paralympic debut in 1984 and is similar to boules
Each side has six balls and the aim is to get your balls closer to the white target ball, the jack, than your opponent
All athletes have an impairment that affects all four of their limbs
Men and women compete alongside and against each other in the sport