IPC official receives prank call on day of Russia's Olympic ban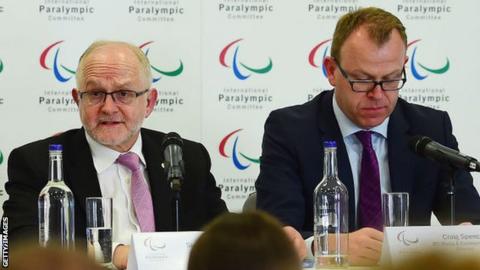 Russian hoaxers tried to prank call journalists and Paralympic officials on the day the country was suspended from the 2018 Winter Olympics.
International Paralympic Committee communications boss, Craig Spence, said they used edited recordings of its former president, Sir Philip Craven.
German investigative journalist Hajo Seppelt was the first to receive a call, before reporting it to the IPC.
Spence then took a call from 'Sir Philip' while sitting next to Craven.
"We were very shocked when Sir Philip was called back by Sir Philip and I think this highlights the lengths people are willing to go to in an attempt to trip up sports administrators in the current period," Spence said, following the pranksters' attempt.
He was with Craven at the time of the call at the IPC's headquarters in Bonn, Germany.
The hoaxers, calling from a British number, used edited questions from previous speeches made by Craven.
When Spence first called the number back he reports the call was answered by an "Eastern European voice". When he called again he got through to a Russian voicemail message.
Spence has passed the number to German police.
Seppelt's reports into Russia's state-sponsored doping programme have made him a target in the past and he was accompanied by security staff in Lausanne where the International Olympic Committee announced the country's ban on Tuesday.
The IOC will allow clean Russian athletes to compete under a neutral flag in Pyeongchang.
The IPC has also been targeted before by Russian hackers and hoaxers after it suspended the Russian Paralympic Committee shortly before the 2016 Rio Games.
That suspension is still in place and a decision on whether Russian athletes will be allowed to compete in next year's Winter Paralympics in South Korea will be announced on 22 December.