Paralympic classification: Sophie Hahn reveals rival's father's 'constant intimidation'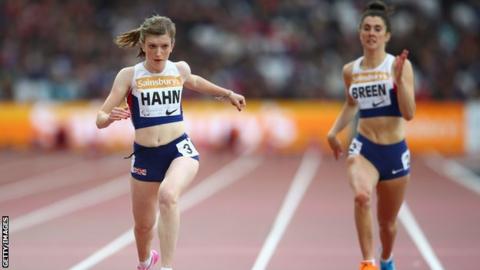 Paralympic sprinter Sophie Hahn says she has suffered "constant intimidation and false accusations" from a rival athlete's father for four years.
Hahn, 20, won 100m gold at the Rio Games in the T38 class for athletes with conditions affecting the muscles.
But Michael Breen, father of sprinter and long jumper Olivia Breen, has questioned her classification.
"I don't really understand why anyone is questioning what is wrong with me," Hahn said.
Breen rejected Hahn's suggestion that his questioning of her classification amounted to intimidation.
The Culture, Media and Sport parliamentary select committee is looking into Paralympic classification as part of a wider inquiry into sport governance.
And in a written submission to a hearing of the committee on Wednesday, Hahn - who was born with cerebral palsy - said: "This has been happening, with the same person questioning my eligibility, since 2013."
Breen gave evidence to an earlier hearing in October, when he named Hahn as an athlete he claimed was benefiting from being wrongly classified, and therefore running against athletes with a more severe disability than herself.
That hearing was also told by a former chief executive of British Wheelchair Basketball that cheating of the classification system was "widespread", with some athletes deliberately exaggerating their disabilities.
"I was very shocked and upset to have been named in the select committee meeting," said Hahn, a five-time world champion in T38 100m and 200m.
"I am the world number one because of my work ethic, dedication and, I have been told, my natural talent and focus. I am not the world number one because I am a cheat or because I am in the wrong classification," she added.
"I feel that this constant intimidation and false accusations will only put people off coming forward to get involved in para sport. It is very damaging for the sport going forwards and makes me very sad and very angry."
Hahn also said she had been investigated by the International Paralympic Committee (IPC) as a result of Breen's "constant questioning".
The IPC - which declined to attend the hearing, drawing criticism from committee chairman Damian Collins - is reviewing its rules and several athletes will potentially see changes to their classification in 2018 - Hahn among them.
However, the IPC has previously criticised Breen's testimonies, referring to him as "a disgruntled father".
Breen also submitted further evidence to Wednesday's hearing, giving more details of his complaints about Hahn and other British athletes.
He told BBC Sport that Hahn's claims of "intimidation" were "wholly erroneous".
"I have never met or spoken to Miss Hahn or to any member of her family. I see Miss Hahn approximately twice a year at competitions but have never had any personal dealings with her or ever attempted to do so," he added.
"I have never called Miss Hahn a cheat. I have simply questioned whether she has been placed in the correct class as a direct result of information given to me."
That information, he told October's hearing, came from British Para-athletics head coach Paula Dunn, who he says suggested to him that Hahn was competing in the wrong category.
"I have never intimidated her in any way and nor would I. The questions I raised have all been raised with the correct and appropriate organisations," Breen added.
The committee also heard from Peter Eriksson, former director and head coach of Paralympic performance for UK Athletics.
He said he did not accept there were big problems with classification.