Sophie Kamlish: Para-athlete does not want to be known as 'Blade Babe'
By Elizabeth Hudson
BBC Sport
Last updated on .From the section Disability Sport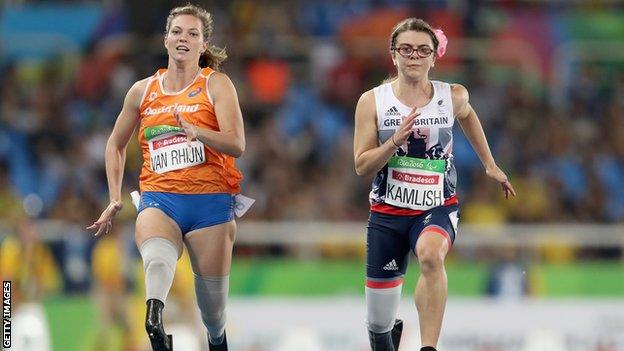 World Para-athletics champion sprinter Sophie Kamlish says she would rather not be known as the next "Blade Babe".
The 21-year-old, who had her lower leg amputated aged seven after a birth defect, runs using a prosthetic blade.
Her Dutch rival Marlou van Rhijn, a double amputee and three-time Paralympic champion, goes by that tag but Kamlish is not keen on adopting it.
"It is reducing me down to the carbon fibre thing that I use to race on," the Bath-based athlete told BBC Sport.
"I guess it's not an insult, but I don't think it would be a total compliment either.
"I suppose if you don't feel uncomfortable with the label then there is nothing wrong with it. But I don't think I like being described as Blade Babe very much.
"[British two-time Paralympic gold medallist] Jonnie Peacock and the other male amputee sprinters generally haven't been described as a Blade Babe, so I guess there is a gender thing going on."
Kamlish set a new T44 world record in the heats on her way to winning gold at the World Championships in London in July for her first global title. And she will take part in her first big competition of 2018 over 60m at the Indoor Grand Prix in Glasgow on 25 February.
The London title also helped to make up in some way for her Rio Paralympics disappointment, where she also set a world record in the heats but missed out on a medal in the final - an experience which she said was "upsetting".
Disability is just another cool part of the world
Despite standing at only 5ft 3in, Kamlish, a self-confessed nerd who is studying animation and illustration at Kingston School of Art, is a distinctive figure on the track thanks to the flower she always sports in her hair and being one of the few athletes who wears glasses.
"Because of the glasses, people assume I'm cleverer than I am," she laughs.
"I've worn them since I was four and can't do without them. I've tried contact lenses but they didn't work for me.
The profile of Para-sport and athletics in particular is on a high, thanks to the success of the World Championships and team-mate Peacock's performance on Strictly Come Dancing and his resulting third place in Sports Personality of the Year.
And although Kamlish says in her personal blog that while her schooldays were not the happiest of her life, she hopes things are getting better for youngsters with impairments growing up now.
"It was never one big horrible thing that I experienced," she says of her school days. "It was tiny things that added up and those are the sort of things that people don't see as offensive when they say them. I think it is thoughtlessness rather than nastiness.
"But you internalise those things and you can end up with the idea that disability is something negative and that is the main thing that needs to change.
"Disability isn't something that is bad or needs to be cured. It's just another cool part of the world and I hope that change is happening in schools.
"I'm sure there have been more educational things for teachers and I always speak my mind now about how disabled people are treated."