Para-snowboard at the 2018 Winter Paralympics: All you need to know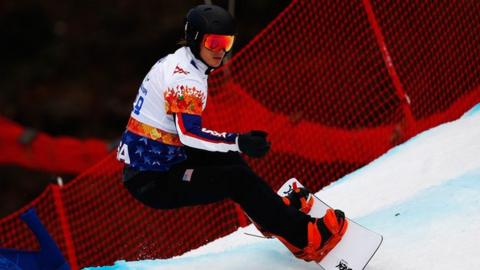 Paralympic Games on the BBC
Venue: Pyeongchang, South Korea Dates: 9-18 March Time in Pyeongchang: GMT +9
Coverage: Follow on Radio 5 live and via the BBC Sport website
Para-snowboard made its debut at the 2014 Winter Paralympics in Sochi with two medal events for athletes with lower-limb impairments (one male and one female)
In Pyeongchang, there will be 10 events across three categories - upper limb impairments (SB-UL) (men only) and lower limb impairments (SBLL-1 and SBLL-2) (men and women) - and two disciplines, snowboard cross and banked slalom.
SBLL-1 athletes may have an above-the-knee amputation or muscle weakness in both legs while SBLL-2 athletes may have a below-the-knee amputation or mild spasticity in one or both legs,
Basic rules
In snowboard cross, athletes race down a course with various terrain features such as banks, rollers and jumps.
Qualification runs have one competitor on the track at a time. Qualification normally involves three runs but the jury can decide the number of runs. The timed qualification runs are used to qualify competitors for the finals with their best run determining the final order.
Finals are based on 16 men/eight ladies with two competitors per heat or such other numbers as determined by the jury. The first round sees the fastest qualifier face the slowest, 2nd v 15th etc. The first-placed competitor (two riders per heat) advances from round to round. The athletes whose body or snowboard crosses the finish line first wins each race.
Banked slalom is an event where the athletes race on a course with banked turns.
All competitors take three timed runs. The best timed run determines the final results.
GB Paralympic history
None. Owen Pick, Ben Moore and James Barnes-Miller, who will be GB's first representatives in the sport, have all won medals at World Cup level over the past couple of seasons
Did you know?
Dutchwoman Bibian Mentel-Spee, who won gold in Sochi, spent last summer undergoing radiation treatment for cancer but will be bidding to defend her title in Korea.
Britain's James Barnes-Miller, who was born missing his hand, is nicknamed 'Stubber'. His twin brother's nickname is 'Two Hands'.
Sochi bronze medallist Amy Purdy appeared on Dancing With The Stars in 2014, finishing second, and danced at the opening ceremony of the 2016 Rio Paralympics.
Australian Ben Tudhope made his debut in Sochi aged 15 and is being mentored by rugby union legend Nick Farr-Jones.