Para-ice hockey at the 2018 Winter Paralympics: All you need to know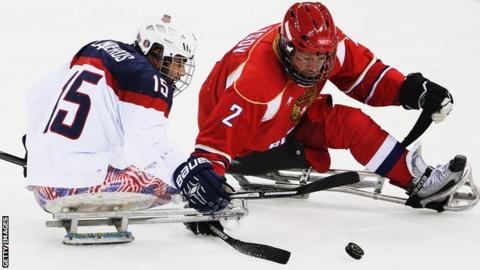 Paralympic Games on the BBC
Venue: Pyeongchang, South Korea Dates: 9-18 March Time in Pyeongchang: GMT +9
Coverage: Follow on Radio 5 live and via the BBC Sport website. Television coverage on Channel 4.
Para-ice hockey is the version of Olympic ice hockey for athletes with a lower-limb impairment.
Formerly known as sledge hockey, it was rebranded in November 2016.
It made its Paralympic debut at the Lillehammer Games in 1994 and is an exciting and fast-paced spectacle.
Many of the rules and regulations of the sport are the same as ice hockey; the main difference is in the technical equipment used.
Athletes use specially designed sledges fitted with two blades to propel themselves across the ice and have two playing sticks, which have a double function: they are used for pushing, much like a ski-pole in cross-country skiing, and to control and shoot the puck.
The game is comprised of three periods, each 15 minutes in length. Six players are allowed on the ice at any time and a total of 15 players make up a team.
Eight teams will take part in the Paralympic tournament in two pools of four with the top two qualifying for the semi-finals and the rest going into ranking matches for fifth-eighth place.
GB Paralympic history
GB last qualified for a Paralympics in Turin in 2006 where they finished seventh. Among the team were Paralympic sprint champion Richard Whitehead and fellow summer Paralympians Stephen Thomas and Nathan Stephens.
Did you know?
The sport was invented in the early 1960s at a sports rehabilitation centre in Sweden.
The USA are reigning Paralympic champions, having beaten Russia 1-0 in the final four years ago and will be bidding for a third title in a row after also triumphing in Vancouver in 2010.
Canada are the current world champions thanks to a 4-1 win over the USA in South Korea last April with Tyler McGregor scoring two goals in the final for a total of 12 overall.
Norway's Lena Schroder is the first woman to be selected to take part in the tournament since compatriot Brit Mjaasund Oejen at Lillehammer 1994.