Winter Paralympics: Skier Kelly Gallagher secures place in GB squad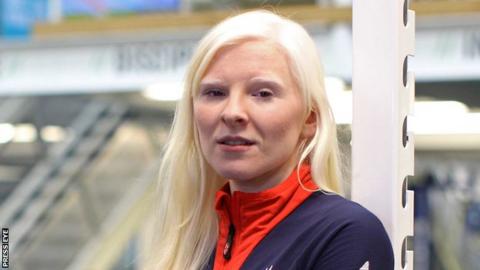 Sochi skiing gold medallist Kelly Gallagher has secured a late place in the Great Britain squad for the Winter Paralympics in Pyeongchang in March.
Gallagher did not get one of GB's two allocated places for visually impaired skiers but has picked up one of the spare slots.
The 32-year-old, made an MBE in 2014, will compete with new guide Gary Smith.
Gallagher was partnered by Charlotte Evans for the historic success at Sochi four years ago.
They became Britain's first Winter Paralympic gold medallists, topping the podium in the women's super G.
Her new guide Smith is 33 and is a communications technician in the Royal Air Force.
The pair will compete at the Games alongside GB team-mates Millie Knight and Menna Fitzpatrick, who race with their guides Brett Wild and Jennifer Kehoe.
"The journey to Pyeongchang has not been an easy one for me," said Gallagher, who is from Bangor in County Down,.
"Gary and I will work really hard to ensure we are in the best place we can be for the Games and make sure every day counts before our first race."
In January 2017, Gallagher sustained a dislocated elbow and three broken ribs in a high-speed crash during training.