British Paralympians to follow new classification code
Last updated on .From the section Disability Sport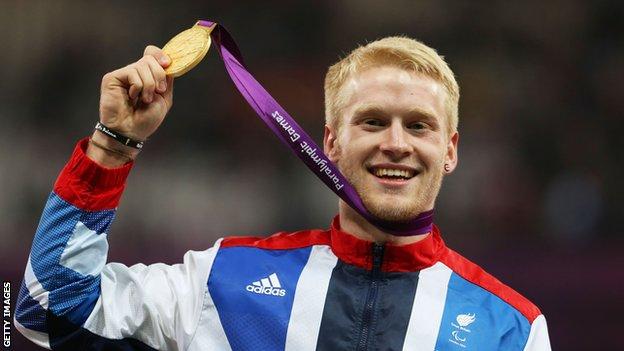 A new code outlining the processes of classification of British Paralympians is set to introduced.
The UK Athlete Classification Code will provide "support and advice" for athletes and allow them to report alleged abuse of the system independently of their governing body.
In November, MPs heard evidence of classification cheating.
Paralympian Baroness Tanni-Grey Thompson said athletes were threatened over selection if they spoke out.
And in January, a revision of the Para-athletics classification system came into effect which affected British Paralympic champions such as Jonnie Peacock and Kadeena Cox.
Peacock will transfer from T44 to the new T64 category while Cox, 26, will have her T38 athletics category reviewed which will involve tests to determine her ability. Team-mate Hannah Cockcroft - a five-time Paralympic champion - said the physical examinations were "humiliating".
The British Paralympic Association (BPA), which published the code, hopes that those that do have concerns will have first used the guidance provided.
BPA chief Tim Hollingsworth told BBC Sport: "There hasn't been an erosion of faith in the classification system, but there has been a legitimate desire for improvement.
"People recognise classification is an objective and complex issue. We need to ensure that it's as robust as possible and well understood as possible.
"There have been cases that have caused concern, but not in the majority and not in the way that suggest that the underlying system should be questioned."
The code comes into effect on 1 March.