Winter Paralympics: Scots to watch in Pyeongchang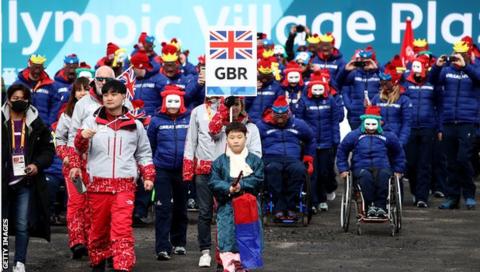 Paralympic Games on the BBC
Venue: Pyeongchang, South Korea Dates: 9-18 March Time in Pyeongchang: GMT +9
Coverage: Follow on Radio 5 live and via the BBC Sport website. Television coverage on Channel 4.
While Scotland shakes off the 'Beast from the East', Paralympic organisers in South Korea have been using excavators, dump trucks and the military to help clear the snow in time for the opening ceremony in Pyeongchang.
And up to 20cm of snow is expected before the Games gets under way this weekend.
The good news for ParalympicsGB is that they are not likely to be braving the -23C temperatures of last month, as the 17 athletes and guides parade around the 35,000-capacity Olympic Stadium.
UK Sport has set the medal target at 6-12 in the hope they can secure at least seven.
That would mark the best performance in 30 years - certainly since the National Lottery funding began in 1997 - and would eclipse their total at Sochi 2014 where they made the podium on six occasions.
The alpine town in Gangwon Province is notorious for tough conditions, biting cold and strong winds; and the GB competitors will endure the cold snap in the Nordic and alpine skiing, snowboarding and curling.
Nordic Skiing
They do not come much tougher than Cumbernauld's Scott Meenagh. Competing in the biathlon and cross-country, the former paratrooper is Britain's first interest in these events in the Paralympics for 20 years.
The 28-year-old Invictus Games champion rower and runner has turned his hand to the snow. Having narrowly missed out on Rio 2016, he was not content to wait four years for his next shot at a medal.
Meenagh has a relentless competition schedule in an effort to make his debut a success.
"It's been a really incredible journey so to now be competing at the pinnacle of the sport is amazing and I don't think it has quite sunk in yet just how exciting it is," he said.
"When I started the sport it was a pipe dream. The prospect of going to Pyeongchang was nowhere near our thoughts. We just wanted to give it a go and see where we could get to. It went quicker than I ever expected; it's been a pretty special journey.
"I really hope that others will follow and it creates a legacy from showcasing this sport in Korea."
When to watch: Men's 7.5k sitting biathlon (10 March, 0100-0235); 15k sitting cross-country (11 March, 0100-0235); 12.5k sitting biathlon (13 March, 0100-0325); cross-country sprint qualifying/finals (15 March, 0100-0630); 7.5k sitting cross-country (0330-0545)
Ready, steady, curl
GB's wheelchair curlers have already familiarised themselves with the Gangneung venue where they will compete over the next fortnight. Aileen Neilson's rink beat China to take bronze in the World Championships there.
Along with former Paralympians Angie Malone, Gregor Ewan, Robert (Bob) McPherson and debutant Hugh Nibloe, the Scots will look to better their bronze from Sochi.
"I feel a much more confident player and a much more technically able player," said Neilson. "[Coach] Tony Zummack has worked really hard to make us the best we can be.
"I've gained a lot more experience since Vancouver [in 2010], which was my first Games, the whole team has. I'm sure that will help us too."
When to watch: NOR v GBR (10 March, 0535); GBR v FIN (11 March, 1035); GBR v SWE & GBR v CAN (12 March, 0535 & 1035); GBR v SVK & GBR v NPA (13 March, 0535 & 1035); GBR v GER & GBR v USA (14 March, 0035 & 0535); GBR v KOR & GBR v CHN (15 March, 0035 & 1035); gold and bronze medal matches (17 March)
Alpine Skiing's Wild guide
GB's youngest ever Paralympian Millie Knight is competing in the visually-impaired category, alongside her Glaswegian guide Brett Wild.
The submariner has taken time out of the Royal Marines to compete with the 19-year-old, which involves racing downhill to the finish line at speeds of about 115kmph (71.5mph) as safely as possible given Knight can only see up to three metres ahead so relies on Wild's instructions and sound of his skis.
The pair will be looking to improve on their last visit to Pyeongchang in 2017 when she crashed and was left concussed.
Wild said: "From working in the Royal Navy the past few years, the communication and skills that I have helped me pick things up quite quickly. Every day we are doing little tweaks to be even better but it's almost second nature now and I'm loving it."
When to watch: Women's downhill (10 March, 0030-0330); women's super G (11 March, 0030-0400); women's super combined (13 March, 0030-0400 & 0600-0800); women's slalom (15 March, 0030-0200 & 0330-0430); women's giant slalom (18 March, 0030-0200) & 0330-0430)