Winter Paralympics: Pyeongchang set for spectacular opening ceremony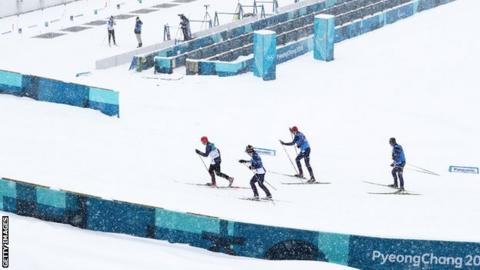 Winter Paralympics on the BBC
Venue: Pyeongchang, South Korea Dates: 9-18 March Time in Pyeongchang: GMT +9
Coverage: Follow on Radio 5 live and via the BBC Sport website. Television coverage on Channel 4.
The largest Winter Paralympics will officially begin on Friday with the opening ceremony in Pyeongchang, South Korea.
A record 567 athletes from 48 countries, plus the 'neutral Paralympic athlete' delegation, will take part.
There will be 80 medals awarded in six sports - alpine skiing, snowboarding, Para-ice hockey, wheelchair curling and the nordic skiing disciplines of cross country and biathlon.
The ceremony starts at 11:00 GMT.
The sporting action will begin with the men's and women's downhill skiing events from 00:30 GMT on Saturday.
North Korea will be making their Winter Paralympics debut, with two athletes in the cross country skiing, but unlike in the Olympics, where North and South Korean athletes marched at the opening ceremony under a unified flag, the two nations will remain separate for the Paralympics ceremony.
"Although we are disappointed, we respect the decision of the two NPCs who decided that marching separately would be better for both parties," said International Paralympic Committee president Andrew Parsons.
"During discussions it was clear that the North Korea National Paralympic Committee respects and values the IPC's vision and mission.
"At the end of the meeting both NPCs recognised that their participation in Pyeongchang 2018 has brought them closer together, and the two have committed to working more closely together in the future."
Georgia and Tajikistan will also make their Winter Games debuts, while the USA will have the largest team with 68 athletes.
Russian athletes will be in attendance but will compete under as 'neutral Paralympic athletes' (NPA), after the nation was banned following a report which found evidence of state-sponsored doping.
Snowboarder Owen Pick, a former soldier who had his leg amputated after being injured in Afghanistan, will carry the British flag into the Olympic Stadium - this will be the first Games at which GB have had representation in snowboarding.
What can we expect from the opening ceremony?
The 35,000-capacity Olympic Stadium was built for last month's Winter Olympics and the Winter Paralympics at a cost of $106m (£76m) and will be pulled down having hosted four events - the opening and closing ceremonies of both Games.
The space left by the pentagonal-shaped arena, which has been modified since the Olympics closing ceremony to allow greater access for disabled athletes, will be used for culture and sports.
Under the tag line 'passion moves us', organisers say the opening ceremony will "embody the new world of co-existence".
Nations will enter the arena in order of the Korean alphabet, before the Paralympic flame enters the stadium and lights a "moon-shaped" cauldron. There will also be a speech from South Korea president Moon Jae-in.
What are GB's medal targets?
Britain's 17-strong team is the country's biggest at a Winter Paralympics since Turin 2006, when 20 athletes took part, including a Para-ice hockey team.
GB will be represented in five sports - alpine skiing, snowboard, wheelchair curling and the two nordic skiing disciplines of biathlon and cross country.
Scott Meenagh will be the first British athlete to compete in nordic skiing at a Paralympics in 20 years.
Four years ago in Sochi, GB took home six medals, their highest tally for 30 years. There was gold for Kelly Gallagher and guide Charlotte Evans in the super G, a wheelchair curling bronze, plus four skiing medals in the visually impaired category for Jade Etherington, who retired after the Games, and her guide Caroline Powell.
The target for GB at Pyeongchang is to win between six and 12 medals, with an ambition of at least seven. If achieved, it would be their second-highest medal haul after the 10 at Innsbruck, Austria, in 1984 and their best since National Lottery funding began in 1997.
"It is quite a lot, and it's also a really tough target," said ParalympicsGB's chef de mission Penny Briscoe.
"Not that we should be daunted by that, because obviously investment is linked to performance. And the increased investment post-Sochi means that we're hoping that will have had a positive impact on the preparation of the athletes."
Who are ParalympicsGB's prospects?
Gallagher, with guide Gary Smith, will compete in four of the five alpine skiing disciplines, and will defend her super G title, but is coming in off an injury-hit 2017.
She will be joined in the visually impaired classification by teenagers Menna Fitzpatrick (guided by Jennifer Kehoe) and Millie Knight (guided by Brett Wild).
The pair, both 19, will begin the British interest on Saturday when they compete in the downhill at 00:30 GMT and will carry GB's greatest medal prospect, along with Gallagher, on the alpine slopes.
Fitzpatrick was the first Briton to become overall IPC World Cup champion in 2016 and Knight took gold among four individual medals at the 2017 World Championships.
GB will have snowboard interest at a Paralympics for the first time, after the sport's introduction four years ago, with James Barnes-Miller and Ben Moore in the upper-limb impairment classification and flagbearer Pick in the lower-limb classification.
All three will race in snowboard cross on Monday and banked slalom on Friday, and have outside chances of medals after all registered top-10 finishes at the most recent World Championships.
Four of the five members of the 2014 bronze medal-winning wheelchair curling team, skipped by Aileen Neilson, will return in the hope of a repeated medal success.
The line-up of Neilson, Gregor Ewan, Hugh Nibloe, Bob McPherson and Angie Malone won bronze at the 2017 World Championships at the same venue in which they will start their Paralympic Games campaign against world champions Norway on Saturday.
What's happening with Russia?
As with the Winter Olympics last month, Russian athletes who are deemed to be clean by the International Paralympic Committee will be able to compete as neutrals.
The Russian Paralympic Committee remains suspended after a report found evidence of state-sponsored doping.
Around 30 Russian athletes, all of whom must have had at least two anti-doping tests in the past six months, are expected to compete across alpine skiing, biathlon, cross country, snowboard and wheelchair curling. That is compared with 68 athletes at Sochi, where Russia topped the medal table with a record total of 80.
Briscoe said the British Paralympic Association feels "comfortable" with the inclusion of Russian athletes at the Games.
"The IPC took a strong position regarding Russia in 2016," she said. "Some progress has been made but not as much as needs to be.
"Strategically, the IPC has made a very good decision by allowing athletes who can demonstrate they are clean to compete in the Games. We hope eventually that NPC Russia can compete as part of the Paralympic family."
Will the weather affect the Games?
Temperatures in Pyeongchang are not as low as they were for the Olympics last month, sitting at about freezing. That could even reach 10C by the closing ceremony on Sunday 18 March - although it could drop to -7C for the opening ceremony.
However, snowfall since the end of the Olympics and further snowfall on Thursday could cause problems.
Alpine training at the Jeongseon Alpine Centre was cancelled on Wednesday because of low visibility and on Thursday because of snowfall, while Friday's session has also been postponed.
IPC president Parsons told BBC Sport on Thursday: "We have a lot of snow today so we will have to see how that affects the opening ceremony, which is outdoors.
"We have been working closely with the organising committee but when it comes to the skiing we have to see how it goes - and see about the quality and how much snow we have. But we have experienced officials on the ground to make the right decisions.
"We are not worried about fitting everything in - there are plans in place."