Winter Paralympics: Bibian Mentel-Spee wins gold against the odds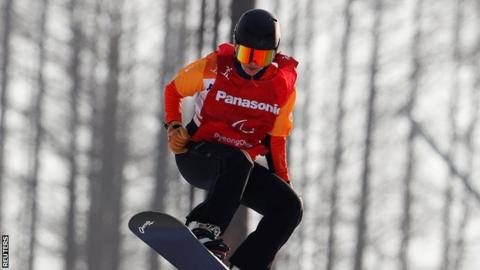 Winter Paralympics on the BBC
Venue: Pyeongchang, South Korea Dates: 9-18 March Time in Pyeongchang: GMT +9
Coverage: Follow on Radio 5 live and via the BBC Sport website. Television coverage on Channel 4.
Nine months of cancer treatment, two surgeries, three weeks of training. Bibian Mentel-Spee's Winter Paralympic gold medal came against the odds.
The 45-year-old Dutchwoman retained her snowboard cross title with victory in Pyeongchang on Monday, less than 10 weeks after an operation to repair damage in her spine caused by cancer.
In July, Mentel-Spee was diagnosed with cancer for the ninth time. It came just seven months after she won double gold at the World Championships.
"It turned out my C6 vertebrae was 40% cancer. I had about 48 radiation therapies over the summer," she told BBC Sport.
"By the time I was back in recovery and training it turned out my vertebrae was collapsing because of the cancer and the radiation.
"They told me if they don't perform surgery I'll be paralysed because I'll break my neck. The bad thing about that is I'd probably still be breathing.
"I didn't trust my neck and I realised it was really dangerous to be snowboarding with a neck like this. One small fall and I could snap my neck.
"So I had surgery right before Christmas and on 3 January. After that my doctor told me: 'Your neck is fine again and we believe you can do the Paralympics.'"
Mentel-Spee was very nearly an Olympian in 2002, but her ambition of going to the Salt Lake City Games ended when doctors found a tumour in her ankle.
She eventually had her leg amputated below the knee and was back on a snowboard in four months.
She has since been campaigning for snowboarding to become a Paralympic event, which happened at Sochi 2014, where she became the first women's gold medal winner in the snowboard cross.
She has dominated the sport, with four world titles across two championships in 2015 and 2017, and could add to that collection in Friday's banked slalom, a new addition for snowboarders at the Pyeongchang Games.
Her victory on Monday, in the LL2 classification for athletes with below the knee amputations or similar impairments, came in a head-to-head final against compatriot Lisa Bunschoten, who suffered a cut to her face when both racers fell on the slope.
"I've been snowboarding for about three weeks now. That was the first time in 10 months. I've got a lot of mileage in me that's for sure," said Mentel-Spee.
"It's so amazing that I grabbed gold. I feel bad because of how it went for Lisa but I'm glad I won.
"And it's amazing to see how far the sport has come."