Winter Paralympics: Menna Fitzpatrick and Millie Knight - GB's fearless Para skiers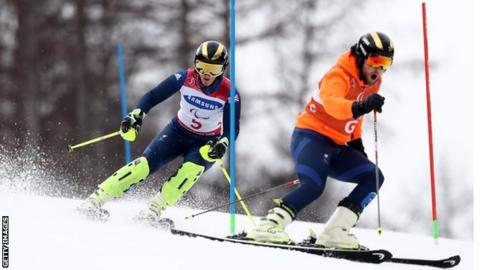 Seven medals - two athletes. Great Britain's medal success at the Winter Paralympics was dominated by two visually impaired skiers and their guides.
Menna Fitzpatrick and Millie Knight, both 19, along with their sighted guides Jen Kehoe and Brett Wild, brought in one gold, four silver and two bronze medals between them - reaching the GB target by their efforts alone.
Fitzpatrick, a World Championship bronze medallist, picked up a superb gold medal on the final day of the Games in the slalom to add to her two silver and a bronze, while downhill world champion Knight collected two silver and a bronze.
So what makes the British pairings so impressive and what are the challenges of taking on the speed and danger of alpine skiing when you have limited visibility?
ParalympicsGB has shared the data and routines of their athletes with BBC Sport to lay out the gruelling life and remarkable achievements of a visually impaired skier.
How much can visually impaired skiers see?
Visually impaired skiers are split into three classifications - B1, B2, B3. B1 is for athletes with a stronger visual impairment, with B3 the lowest visual impairment.
Fitzpatrick was born with congenital retinal folds and has no vision in her left eye and limited vision in her right eye, while Knight lost most of her vision as a child because of roundworm parasite.
Both are classified as B2 athletes, while their team-mate Kelly Gallagher, who won Britain's first ever gold medal on snow at either a Paralympics or Olympics at Sochi 2014, has oculocutaneous albinism and is classified B3. She skis with guide Gary Smith.
Generally, the athletes have around 5% vision and can see to a depth of about two metres, but this varies between peripheral and partial sight and only picks up changes in some colour, shade and shape.
To emphasise how difficult their sport is, the gates in the downhill event - the quickest race down the slope - are past them when they see them.
Each racer has a guide, who skis in front wearing a bright orange bib and communicates instructions through a Bluetooth headset.
All three classifications race together, but the times are factored depending on the severity of the disability - so the clock ticks over slower for B1 athletes and quicker for B3.
Up to 70mph and maximum heart rate
The speeds they generate are pulsating.
The high-speed downhill can produce a velocity of more than 70mph on the quickest courses. In comparison, able-bodied World Cup skiers reach speeds over 80mph and can clock more than 100mph at the Wengen downhill in Switzerland.
The slope at Jeongseon Alpine Centre in Pyeongchang is quite technical with lots of turns, but the indicative average speed in training for the three GB athletes was 44mph with a top speed of 56mph.
All have had injuries to deal with as well. In the last two years alone, Knight has suffered a concussion, Gallagher has dislocated an elbow and fractured three ribs, while Fitzpatrick has had surgery on a broken hand.
With the stakes so high, you would expect heart rates to be jumping - and you would be right.
During the downhill training at Pyeongchang, the British athletes have been maintaining a maximum heart rate for more than 20 seconds of their runs.
And for slalom, that maximum heart rate is held for more than 60 seconds - that's two thirds of the race.
The actual heart rate will differ for each athlete, but during that maximum period GB's coaches are able to see that the skiers are tolerating maximum levels of fatigue while executing their run - it is an incredibly physically demanding stretch on the slope.
King Kong, butterflies and sing songs - the mental game
As part of the ParalympicsGB set up, the athletes have access to sports psychologists, who can help prepare them for the mental challenge of hurtling down a hill.
The wait at the top of the slope, and how you deal with it, can often be as important as how you execute your run. If you're not in the right mindset, you will have lost before you go through the first gate.
Fitzpatrick described the techniques she uses to focus - they include thinking of butterflies in formation, visualising a cup of tea and performing yoga breathing.
"They all got a bit confused and it ended up being butterflies drinking tea and doing yoga," said Kehoe. "That made Menna laugh which is exactly what we want before we go out because it means we're relaxed."
"It also evolved and became butterflies eating jelly babies and drinking tea," added Fitzpatrick.
Things got even weirder on gold-medal winning slalom day. Fitzpatrick had a bad start to the morning when a ski boot fell on her head - so a song by Sir Mixalot saved the day.
"I full on cried during the course inspection. Everything was a bit urgh. It was emotional," she said.
"So this is what came into my head as soon as Jen said 'sing something': 'I like big butts and I cannot lie!'."
Knight uses team psychologist Kelley Fay regularly - and turned to her this week after disappointing results in the super combined and giant slalom.
"She tries to keep me in a positive mindset and gives me tools and techniques to use throughout the day," Knight explained. "Whether it's at the start gate or at the finish line.
"What she's done is absolutely fantastic."
Knight and Wild will also quote a line from The Script song Hall of Fame as they peer down the slope from the start gate.
"You could be the greatest, you can be the best, you can be the King Kong banging on your chest."
Success brings funding
Four years ago Gallagher, with her then guide Charlotte Evans, launched British visually impaired skiing into the headlines with her gold medal run in the downhill.
And Jade Etherington's three silvers and a bronze with guide Caroline Powell bolstered British success in the event.
Heading into the Sochi 2014 Games, British para-alpine skiing received £405,400 of funding from UK Sport - for the build-up to Pyeongchang, GB's para-alpine skiers received £2.7m of funding.
The legacy from Gallagher's gold and Etherington's medals cannot be underestimated.
"We had so much funding and support after Kelly and Charlotte won their gold so I only hope we will create the same after ours," said Fitzpatrick.