Gold Coast 2018: Team Scotland para-cyclist Neil Fachie targets medals
By Michael McEwan
For BBC Sport Scotland
Last updated on .From the section Disability Sport0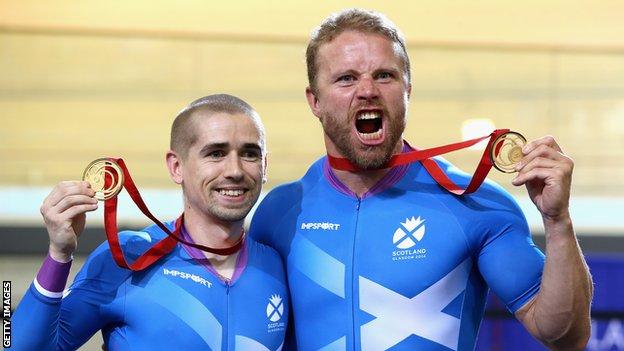 Team Scotland para-cyclist Neil Fachie is preparing to compete at the Commonwealth Games on the Gold Coast. Here, the two-time Commonwealth champion reveals how his preparations are faring and the secrets behind his success.
How has training been going?
It has gone really well up to this stage. After a selection process, Matt Rotherham and I were partnered on the tandem at the end of 2017. Since then we have worked well to initially start understanding each other as riders. We've gelled together really well and have made a lot of progress over the past couple of months. I'm really optimistic that we can ride some quick times and challenge for the medals.
You took up the sport at the age of 24 after qualifying for the 2008 Summer Paralympic Games in Beijing, how was that experience and have you noticed the format of the Games change in the past 10 years?
Beijing was a tremendous experience for me. I only just scraped my way onto the team, and so just being there was a huge achievement. Honestly, I was in awe at how massive the Games were. Everything from the athletes' village; thousands of people from all across the globe; the food hall with 24-hour buffet service, capable of seating and feeding thousands at a time; and then the Bird's Nest Stadium, 90,000 people cheering us on. It was incredible.
I missed out on the finals of both my events, though, and subsequently lost my funding. It was devastating, but a blessing in disguise as I later found cycling, which I consider to be my calling. The Paralympics have progressed at an incredible rate since then. The coverage of London 2012 was a huge factor in that, Paralympic sport was brought to the masses, and they loved it for what it was: competitive sport of the highest quality.
In 2013 you were on the New Year's Honours list for services to para-cycling, how did you feel about that?
It was a huge honour to be awarded the MBE for services to sport, but to be honest it was a very humbling day. I got chatting to a lady on the day who was also to be awarded an MBE. She had been involved in voluntary work for more than 30 years and had done some incredible things. Talking to her inspired me to get out there and start doing more with my achievements to do a bit more work with charities that are close to my heart, as well as going into schools to talk to, and hopefully inspire, the kids to take up sport.
Tell us more about the challenges you face as a visually-impaired competitor, what preparation is needed before the start of each event with your pilot?
Having been born with my eye condition, I've never really known anything different. Though my eyesight is deteriorating, and I know that at some point in my life I will go completely blind. There are a number of challenges, though, firstly the obvious one is that I can't legally drive (lucky for you!). So getting to and from training means public transport. I also particularly struggle in poorly lit situations, so I walk with a cane during the winter dark evenings.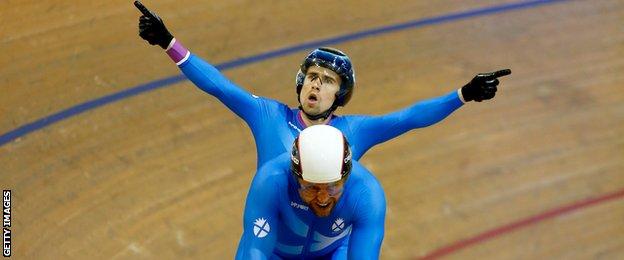 When it comes to training itself, if I'm in an environment I know then there aren't too many issues. I can't ride a solo bicycle at speed on my own, and so ride on the back of the tandem on the track. It means I have to put a lot of trust in my pilot [a fully-sighted rider on the front].
In our events we travel at more than 70 kph around the 250m velodrome alongside a rival tandem. It's pretty intense, and obviously quite dangerous. I love it, though, and completely trust the guys I've ridden with in the past. I appreciate it's not for everyone though!
In the 2014 Commonwealth Games here in Glasgow, you won double gold in the kilo time trial and Sprint B tandem, what was the atmosphere like, particularly to achieve this on home soil?
Glasgow 2014 was one of my absolute highlights to date. I'm really fortunate to have competed in two home Games: the London 2012 Paralympics and then Glasgow. The atmosphere in Glasgow was incredible. We went in to those events with a lot of pressure, we had been named in a lot of the press as serious gold medal prospects for Scotland.
Honestly, I felt the bike from Australia might have the edge on us. We managed to just pip them in the kilo to win gold and that was a fantastic moment, standing on top of the podium singing 'Flower of Scotland' was a dream come true. The following day was the sprint, in qualifying they went quicker than us. After a day's racing we met in the best-of-three final.
In the first ride the Australians completely dominated us, and so we had to win the last two remaining rides.
The second ride was immense, coming in to the last lap we were behind the Australians, on the home straight we managed to pull alongside them and I could hear the roar of the crowd. We beat them by centimetres. It completely knocked their confidence and in the final ride we won comfortably. The crowd on that day were insane. I distinctly remember The Proclaimers' "I'm Gonna Be (500 Miles)" being played right after we won and the whole crowd [including me on the back of the bike] were singing along. Only in Scotland!"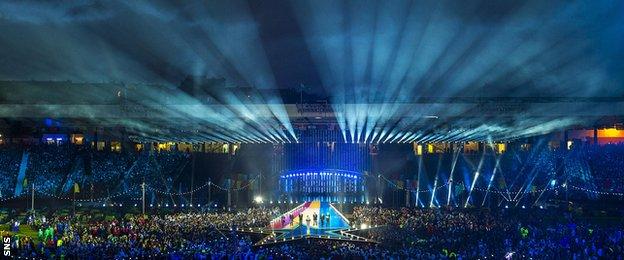 What music do you like to train to?
I'm very much a rock music fan. It varies how heavy it is depending on my mood. I do love a bit of metal before I race, it works great for getting yourself psyched up. My favourite band are Biffy Clyro, fellow Scots who are taking the world by storm!