Wheelchair basketball: GB's Terry Bywater targets Champions League glory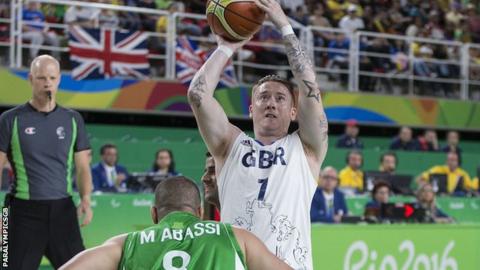 Real Madrid's Gareth Bale is not the only British-born Madrileno bidding for a third straight Champions League title - but you would be excused for not knowing who the other one is.
Wheelchair basketball player Terry Bywater has been a mainstay of the Great Britain set-up since he was a teenager.
Now, aged 35 with a host of club and international honours to his name, he hopes to guide Madrid-based CD Ilunion to a third consecutive top-level European title this weekend in the Champions League Final Four in Germany.
But despite his success, Bywater does not believe he and his sport get enough credit.
"I've been to five Paralympic Games and won three bronzes, as well as European and world medals, plus I've achieved success in one of the toughest leagues in the world and at European club level, and if I was an able-bodied athlete I believe I would receive a lot more attention," he told BBC Sport.
"When you start to receive that attention it also benefits the sport and the federation.
"What we as a GB team have done over the last 10 years has been fantastic and we probably haven't received the media attention or sponsorship that we deserve, and that is sad to see.
"I've been through a few generations of the sport now and it is changing, but it isn't changing quickly enough."
'Amazing athletes'
Wheelchair basketball is one of the most established Paralympic sports having been part of the inaugural summer Paralympics in Rome in 1960.
It is similar to the able-bodied game with the only rule changes to accommodate wheelchair users, rather than runners.
Bywater, who joined Ilunion for a second time in 2012, helped them win the treble of the Spanish league, Spanish cup and Champions League for the last two seasons, and they have already secured the Spanish cup this term.
But while the Paralympic movement is much different to the one he started playing in as a teenager, he believes more needs to be done in the area of athlete sponsorship.
The 'aren't they brave? Bless them' attitude has been replaced by the realisation that Paralympians are elite athletes who put in the training and commitment, and while they are now viewed in a different light, helped enormously by London 2012, the scarcity of sponsorship is still an issue.
"Some able-bodied athletes are very lucky in what they achieve, but disabled athletes don't get 1% of it and I think that's wrong," Bywater says.
"I don't believe you will ever see a Paralympic athlete signing those multi-million pound contracts, getting sponsors thrown at them. In the Paralympic world there are some amazing athletes who have achieved some great things.
"Do I ever think Paralympic sport will be like able-bodied sport? No, and I'm not quite sure why.
"I'm coming to the end of my career and in five or 10 years' time I'd love to see it in a totally different place - not just wheelchair basketball, Paralympic sport as a whole."
'I am very proud of it'
Bywater, who was born without a tibia and fibula in his left leg and had the leg amputated aged two, grew up playing football, representing the school team and supporting his beloved Middlesbrough.
But starting wheelchair basketball as a 13-year-old and eventually becoming a Paralympian at Sydney 2000, aged 17, changed his life completely.
"My parents did everything they could to help me lead a normal life when I was growing up," he recalls. "But I was different, I was a kid in a small village growing up with one leg. Everyone knew me!
"The fact I have had the chance to travel the world, see so many places and go and represent GB at a Paralympics is something very special and I am very proud of it.
"The young kid from Redcar growing up with one leg could never have dreamed of what I have done.
"But it goes to show there are opportunities out there for every disabled kid now, whatever the sport. It doesn't matter what disability they have, there will be a sport for them to fall in love with, like I did with wheelchair basketball all those years ago."
Rising standards
This weekend's tournament starts with a semi-final on Friday against Italian side Briantea84 Cantu, who have Bywater's GB team-mate Ian Sagar in their ranks.
The second semi-final is an all-German affair between RSB Thuringia Bulls and RSV Lahn-Dill, with the finals played on Saturday.
After that, Bywater's attention will switch to the upcoming World Championships in Germany, where GB will hope to win a medal in the event for the first time since taking silver in 2002.
Now the most senior figure on the team following the post-Rio retirement of seven-time Paralympian Simon Munn, Bywater enjoys sharing his experience with the younger generation of players coming into the senior set-up.
"I know I am coming to the end of my career and now I am taking it tournament by tournament, rather than a whole four-year cycle," he admits.
"I've always said I will stop when the time is right. I've been playing at the elite level since I was 17 and I haven't missed a major tournament in 19 years but it takes its toll.
"The game has improved so much since I started and it's crazy to see how high the level is now.
"We have some good young players coming through for GB and the future is bright. While I want to be part of it for a bit longer because I know the potential they have, I'm 35 and sometimes my body feels like it is 50."