Special Olympics: 'It's everything to be part of these games'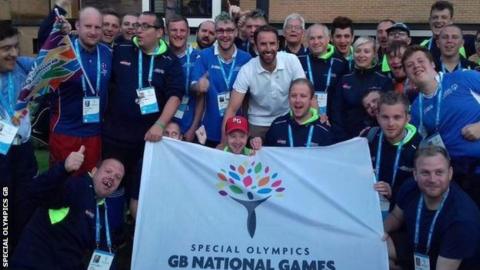 The Special Olympics' 40th Anniversary Games in Stirling will help athletes feel "part of the community", says the competition's organiser.
More than 1,200 with intellectual (learning) difficulties from the UK and Europe are in Scotland to compete.
Laura Smith from Special Olympics Scotland told BBC Scotland it is not just about the sport.
"It's also about bringing people together, meeting new friends and sharing their experiences."
"Whether they win a medal or go away with a ribbon, as long as they do their best it means the world to them. Sometimes that slight achievement is huge for them."
The games began in 1968 and this year they also celebrate 50 years of the Special Olympics movement, started by then US President John F Kennedy's sister Eunice.
After today's opening ceremony, Stirling University will host three days of competition from 9-13 August catering for a broad range of abilities.
Boccia, badminton, table tennis, football, swimming, athletics, cycling, golf and indoor rinks bowls are all on offer.
Smith added that this will also be the first opportunity for some with profound and multiple disabilities, who otherwise struggle to travel due to care needs.
"It's everything for them to be part of these games," she said.
"Until they have they don't feel part of the Special Olympics family so coming to them its acceptance, and their families are over the moon that they're being included."