US Open: Britain's Alfie Hewett suffers 'horrible experience' getting to New York
Last updated on .From the section Disability Sport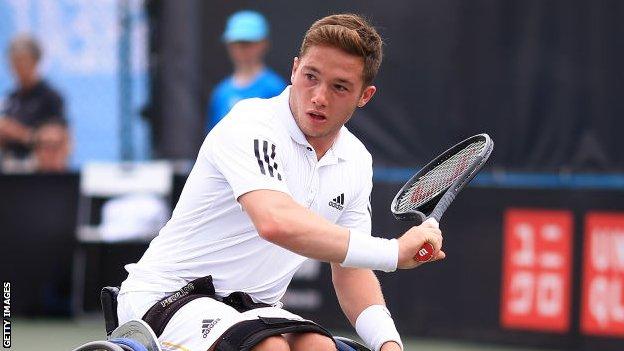 British wheelchair player Alfie Hewett slept on an airport floor as he endured a "horrible experience" travelling to the US Open.
The 20-year-old, who won the men's doubles title with Gordon Reid last year, began his journey on Monday from St Louis but arrived in New York on Tuesday evening.
"I don't have injuries but I'm going to feel very stiff sitting in a chair for 26 hours and then the floor," he said.
"It has messed up my lower body."
The Norwich player beat world number one Shingo Kunieda in the final of the US Open warm-up event in St Louis, Missouri, before heading to the airport.
His travel problems started when he landed in Chicago to find his American Airlines connecting flight first delayed by problems in New York and then a thunderstorm, before being cancelled.
A second United Airlines flight on Monday night was also cancelled, and he was forced to remain at O'Hare International Airport while he waited for his bags, including his racquets and tennis chair, before being put on a flight to New York early on Tuesday morning.
"They wouldn't put me up in accommodation," added Hewett. "I asked if there was an airport hotel, they said no, there was one half an hour away. It was about midnight and I realised I had to be at the airport in four and a half hours anyway.
"I asked where my bags were, they didn't know. They looked, they were still in the airport but they were going to JFK [New York]. I wasn't going to JFK any more and they wouldn't re-route them. The only option I had was to stay in the airport for another two hours to collect them - it was my racquets, chairs, everything.
"So I slept on the floor for about 45 minutes, went to get my bags, then by the time I'd done that and got to the other terminal, it was practically time to check in again.
"It was a horrible experience. When something like that happens you don't feel like they look after you. I explained my situation but there were lots of other people who needed to be in different places for business meetings and family reasons, so I was just another one."
Hewett and compatriot Reid begin the defence of their doubles title in the semi-final against Gustavo Fernandez of Argentina and Japan's Kunieda.
Lucy Shuker takes on South Africa's Kgothatso Montjane in the women's singles while Andy Lapthorne will be in action in the quad division.