Tom Daley second in National Diving Championships 10m
Last updated on .From the section Diving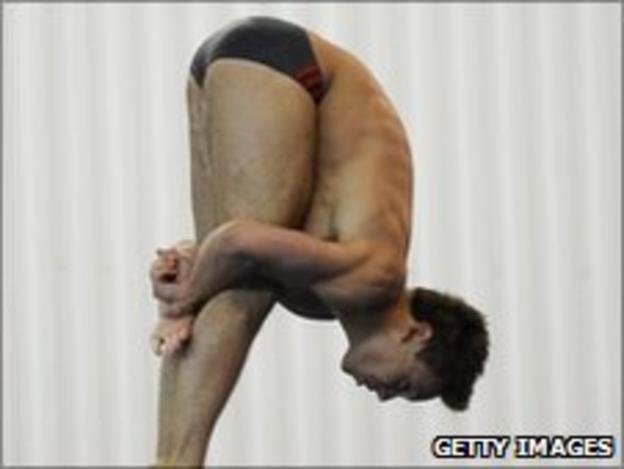 Tom Daley had to settle for second place on his return to the 10m platform competition for the first time since the death of his father Robert.
The world champion, 17, who came fifth in Saturday's 3m springboard event, was leading at the halfway stage of the National Diving Championships event.
But he ended up being well beaten by defending champion Peter Waterfield.
"The preparation for this meet hasn't been the best," said Daley, who just held on to second place.
"It's hard to get into the same mentality at a National Championships as when I'm away. When you're at an international competition there's a huge atmosphere, excitement and pressure and that's great.
"I'm slightly disappointed but there are lots of positives to take away. I had a good prelim and some steady dives so I'll take that with me.
"Dad would have wanted me to be here and compete and I'm pleased that I have done this competition."
Waterfield won the gold medal after securing three 10s on one of the hardest dives in the world on the final day of competition.
"Going into the final I knew I'd be nervous but I calmed myself down and it was good," said the Southampton diver, who claimed 525.35 points in total. "That was the most that I have scored on that dive.
"This is a stepping stone for the World Championships and it is good to get another strong performance under my belt. My main priority here was to dive well and get to the World Championships - and I am hopefully there now."
Daley won silver with a score of 465.90 and Southampton's Max Brick won the bronze with a total of 465.00.
Rebecca Gallantree won the British title in the 3m springboard, with Alicia Blagg and Hannah Starling second and third respectively.
On Saturday, Daley claimed fifth in the three-metre springboard event, a discipline in which he rarely competes.
Rising star Jack Laugher claimed gold in his home pool.
Meanwhile, Gallantree and Blagg continued their fine form to take gold in the women's three-metre synchro.
Tonia Couch claimed her second gold medal of the meet with success in the women's 10m platform.
Laugher posted a final score of 453.65, which should be enough for him to be selected for next month's world championships in Shanghai, after he finished 39.3 points clear of Ben Swain and Chris Mears.
"It's absolutely great to win," said Laugher, 16. "I am so happy. I have the title and have taken on some of the best divers in the country.
"We should know who is competing in Shanghai soon and the idea of competing against the world elite is really exciting.
"I have got a lower degree of difficulty list at the moment but this is something I am working on with my coach and I know it'll be ready soon."