Tonia Couch and Sarah Barrow fourth in 10m synchro at Worlds
Last updated on .From the section Diving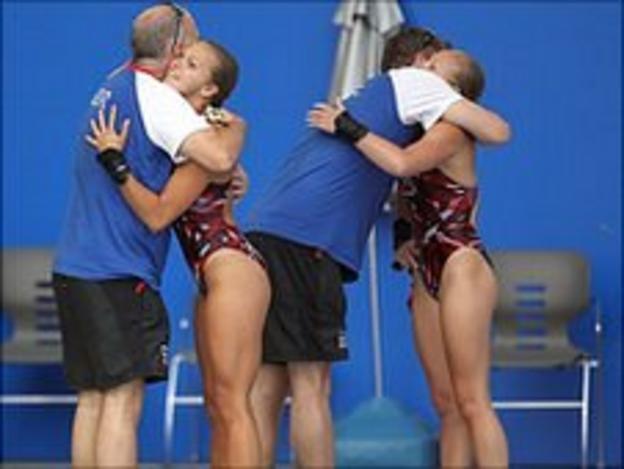 British pair Tonia Couch and Sarah Barrow narrowly missed out on a medal as China's divers continued to dominate on day three of the Fina World Aquatics Championships in Shanghai.
Couch and Barrow made it through the preliminaries of the 10m synchro final with a haul of 290.28 and improved with a total of 314.52 in the final.
But Australia and Germany, the latter with 316.29, secured silver and bronze.
China pair Minxia Wu and Zi He won gold with a total of 356.40 points.
"We are really pleased to come fourth although a bit gutted to be two points off a bronze medal," said Couch.
"But at least we know next year we can medal, two points is nothing."
Minxia and Zi's victory represented the hosts' fourth gold medal out of the four so far available as China target an unprecedented clean sweep at the event.
Earlier, Li Shixin won gold in the men's 1m springboard final with a winning score of 463.90 ahead of compatriot He Min and German Pavlo Rozenberg.
Brits Christopher Mears and Jack Laugher never threatened the medal places, Mears finishing 14th with 361.20 and Laugher 33rd with a score of 279.55.
Full details of BBC coverage from the Fina World Championships
Updates on the Championships from British Swimming (external site)