Tom Daley and Pete Waterfield reach 10m platform final
Last updated on .From the section Diving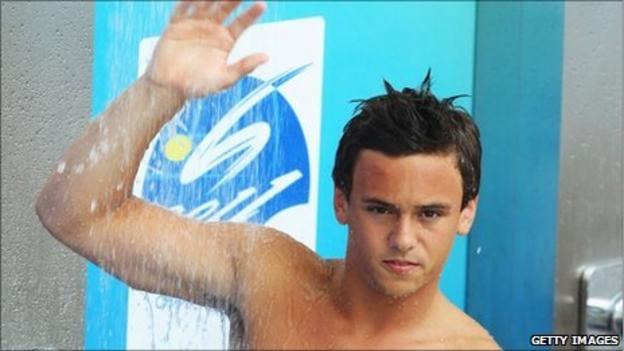 Defending world champion Tom Daley has secured a 10m platform diving spot for Britain at the London 2012 Olympics by reaching this year's final in China.
The 17-year-old finished sixth in the semi-finals and will be joined in the final by team-mate Pete Waterfield who finished 17th of the 18 qualifiers.
Waterfield had painkilling injections in his wrists to enable him to compete but he was 35th after his opening dive.
"I didn't feel I was going through but the last three were steady," he said.
When asked whether the wait to find out if he had qualified had been agonising, Waterfield replied: "Not as much agony as my wrists are in.
"I only had one training session before synchro and went on the 10m straight away.
"All my bones in my wrists are bruised - basically hitting the water at 40 miles an hour."
Waterfield's first dive was a handstand and he did not have the power to push off and complete the dive and was marked in the 4.4.5 range.
But he moved up from 35th to 28th by halfway and produced three decent dives to squeeze into the top 18 with 415.15 points.
Waterfield's preparations for the World Championships were also hampered by illness before the event and he and Daley had just one training session together in Shanghai before finishing sixth in the 10m synchro event last Sunday.
Daley produced a consistent set of dives in the semi-final and he was constantly in the top six, although he over-rotated on his final dive, a reverse three-and-a-half somersault and his marks ranged from 4.5-6.
However, his total of 472.70 was comfortably enough to see the Plymouth diver into the final.